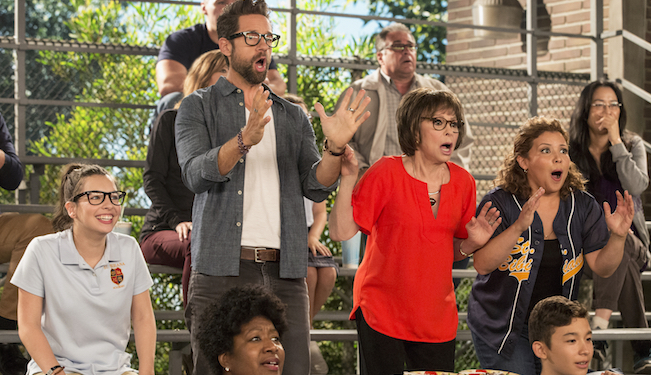 One Day At a Time (Netflix) – Season two of the Netflix comedy picks up where its stellar first showing left off – Penelope is still battling depression and anxiety and Elena is navigating life after coming out to her family and friends. The show gets political in a few episodes, tackling topics like racism and gun control, but it largely borrows from what made the first season so great. Oh and Rita Moreno is a goddamn legend, in case you need more reasons to watch.
The Good Place (NBC, 8:30 p.m.) – Michael handles the fallout from his recent actions while Eleanor, Chidi, Tahani, and Jason take a hard look at whether they've actually improved or not.
Beyond (Freeform, 8:00 p.m.) – Holden buckles under the stress of his new job and his meltdown leads to destruction.
Grey's Anatomy (ABC, 8:00 p.m.) – A young boy admitted to the hospital has a profound effect on all the doctors while Jo continues to deal with her estranged husband.
MVP: Most Valuable Performer (CBS, 8:00 p.m.) – A bunch of professional football players compete to see who has the most (random) talent off the field.
Supernatural (CW, 8:00 p.m.) – Donna enlists Sam and Dean's help in finding her missing niece who, it turns out, has been kidnapped by a man who sells human parts to monsters in a grotesque online auction.
Superstore (NBC, 8:00 p.m.) – Jonah and Kelly's new relationship causes problems for his roommate, Garrett and things become tense between Dinah and Glenn when he brings in a lawyer to make their baby-making agreement official.
The Four: Battle for Stardom (Fox, 8:00 p.m.) – More new challengers come for the Four's seats.
Arrow (CW, 9:00 p.m.) – Cayden James begins his plan to take over every aspect of the city and Oliver underestimates his enemy's reach when he decides to rely just on the original members of Team Arrow to stop him.
Scandal (ABC, 9:00 p.m.) – We're going back down into the basement to take a closer look at what happened to Quinn between when she was kidnapped and when Rowan pulled the trigger.
Great News (NBC, 9:30 p.m.) – Season two ends with Diana St. Tropez informing the staff that Fenton Pelt has agreed to drop is lawsuit in exchange for a humiliating on-air apology from Chuck, who agrees until he's reminded of why he got into journalism in the first place.
Chicago Fire (NBC, 10:00 p.m.) — Dawson and Casey do everything they can to locate Bria's whereabouts after discovering important new information and Severide reunites with an old family friend.
How to Get Away With Murder (ABC, 10:00 p.m.) – Annalise and Frank work together for the group's best interests as Laurel struggles to make peace with what happened that night.
LATE NIGHT GUESTS
Jimmy Kimmel Live!: Viola Davis, Thomas Haden Church, Lanco
The Tonight Show Starring Jimmy Fallon: Will Ferrell, Robert Irwin, Migos
The Late Show With Stephen Colbert: Gwyneth Paltrow, Ben McKenzie, Thirty Seconds to Mars
Late Night With Seth Meyers: Willem Dafoe, Dakota Fanning, Amirah Kassem, Brann Dailor
The Daily Show With Trevor Noah: Cecile Richards
Conan: Lisa Kudrow, Tom Segura, Sam Morril