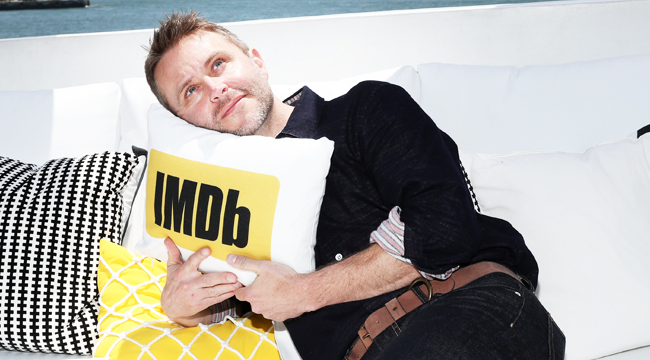 After loads of season finales over the past few weeks, the television schedule is giving folks a reprieve to catch up on the oodles of shows they didn't have time to watch this year. However, there's a good cause at hand as well, because NBC is devoting an entire evening to celebrity-studded Red Nose Day events. The night shall aim to raise money to end child poverty and will be capped by an hour hosted by Chris Hardwick.
Red Nose Day: Celebrity Ninja Warrior (NBC, 8:00 p.m.) — The show's elite ninjas will be replaced by nine celebrities, including Derek Hough, Stephen Amell, and Erika Christensen, who attempt to complete the course's physical and mental challenges.
Hollywood Game Night (NBC, 9:00 p.m.) — Fundraising efforts during this special will feature Chelsea Handler, Sarah Silverman, Kelly Clarkson, Sean Hayes, Jack Black, and Cedric the Entertainer.
Red Nose Day (NBC, 10:00 p.m.) — Chris Hardwick emcees this one-hour special filled with Hollywood players, including more from Kelly Clarkson.
Jersey Shore Vacation (MTV, 8:00 p.m.) — Pauly stirs up trouble by inviting old antagonist/roommate Angelina to the Miami pad while the girls are away.
Terrence Howard's Fright Club (FOX, 8:00 p.m.) — A group of Terrence Howard's "super-fans" will descend upon his New Orleans home, only to be the subject of an elaborate prank by the actor himself.
The Last Days Of Michael Jackson (ABC, 8:00 p.m.) — Barbara Walters anchors this look at Michael Jackson's life and legacy through never-before-seen interview footage and comments from those who knew him.
Siren (Freeform, 8:00 p.m.) — Ben and Decker fall prey to the enchanting siren song during the Season 1 finale.
Showtime At The Apollo (FOX, 9:00 p.m.) — Finally, this season's competitors will be narrowed to the one performer who will headline their own show at the legendary theater.
What Would You Do? (ABC, 10:00 p.m.) — Once again, Americans will confront difficult ethical considerations on the situational hidden camera show.
LATE NIGHT GUESTS
Jimmy Kimmel Live!: Samantha Bee, Dylan Minnette, Anderson .Paak
The Tonight Show Starring Jimmy Fallon: Cate Blanchett, Guy Fieri, Darius Rucker
The Late Show With Stephen Colbert: Anne Hathaway, David Sedaris, Ahmed Bharoocha
Conan: James Comey, Tig Notaro, Cory Kahaney