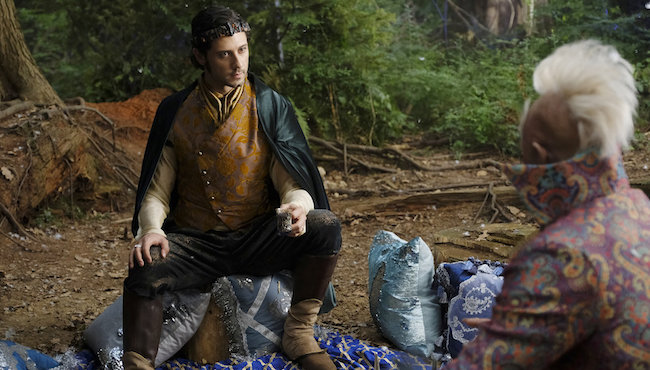 The Magicians (Syfy, 9:00 p.m.) – What does a world without magic look like? Pretty f*cking bleak. After killing a God, Quentin and his friends are tasked with finding some special keys hidden all around the world in order to bring magic back and make things right again. But before they do that they have to deal with some evil fairies.
The Amazing Race (CBS, 8:00 p.m.) – The race brings the teams to Antwerp, Belgium tonight.
The Blacklist (NBC, 8:00 p.m.) – Liz continues her quest for revenge as Red orders the Task Force to hunt down a Blacklister who uses his position of power to sell sensitive information.
The Goldbergs (ABC, 8:00 p.m.) – Erica warns Geoff about the perils of dining out with her family but he insists. After a night of food being sent back, tables being changed, and adults ordering off kid's menus, he finally hits his breaking point.
The Librarians (TNT, 8:00 p.m.) – Cassandra decides to take a vacation after she screws up the team's latest mission but the quiet little town she holes up in isn't as safe and friendly as it seems.
The X-Files (Fox, 8:00 p.m.) – An old friend of Mulder and Scully's reaches out in an impossible way to reveal a chilling secret.
grown-ish (Freeform, 8:00 p.m.) – Zoey's ecstatic that her crush is paying her more attention but after she receives a late-night text, she worries it's for the wrong reasons.
Speechless (ABC, 8:30 p.m.) – Kenneth tests his DJ'ing abilities on a crowd while JJ and Dylan help Ray explore his reckless side and Maya makes a new friend at a school fundraising event.
Alone Together (Freeform, 8:30 p.m.) – A pair of platonic best friends navigate the cruel, status-obsessed culture of Los Angeles in this series premiere.
9-1-1 (Fox, 9:00 p.m.) – Could 9-1-1 be the next Zoo? It's a question I asked myself after a suicide, a drowning, and a baby stuck in a pipe happened all in the first ten minutes. It's a question that was answered when firefighters took out a criminal on a motorbike using their truck's water hose. Yes, 9-1-1 could be the next Zoo. But don't take my word for it. Tonight's episode takes a deadly turn when a rollercoaster at an amusement park malfunctions and leaves people's live literally hanging in the balance.
Law & Order: Special Victims Unit (NBC, 9:00 p.m.) — SVU investigates a case involving two students in a special needs school and Rollins soon discovers that one child's medical issues stem from an unlikely source.
Modern Family (ABC, 9:00 p.m.) – Gloria rallies the family to be by Phil's side after rushing him to the hospital for intense stomach pains.
SEAL Team (CBS, 9:00 p.m.) – Jason and the team are sent to intercept the sale of nuclear weapons but things go south when they're forced to transport the unsecured weapons back to base.
Vikings (History, 9:00 p.m.) – The Great Heathen Army must decide between a final plea for peace or all-out war as the battle for Kattegat begins.
American Housewife (ABC, 9:30 p.m.) – Katie enlists her friends to write glowing reviews of Greg's new book after worrying the launch might go poorly but when that backfires and Greg sells so many copies that he's able to buy a new car without Katie's permission, she does some damage control.
Chicago P.D. (NBC, 10:00 p.m.) – Burgess risks putting an informant in danger after she pursues a tip about a pimp visiting women's shelters, scouting for new girls.
Criminal Minds (CBS, 10:00 p.m.) – The team's investigation into the home invasion and attempted homicide of a police chief's wife uncovers a world of secrets in a small town in Virginia.
Happy! (Syfy, 10:00 p.m.) – Sax and Happy split up after a pretty disastrous family reunion and Merry defends herself under an Internal Affairs investigation.
Match Game (ABC, 10:00 p.m.) — Jack McBrayer, NeNe Leakes, Max Greenfield, Christina Ricci, Kenny G, and Jane Krakowski serve on the panel tonight.
Knightfall (History, 10:00 p.m.) – Princess Isabella discovers who betrayed her as Landry is kidnapped and tortured by a mysterious group.
LATE NIGHT GUESTS
Jimmy Kimmel Live!: Chris Hemsworth, Darren Criss, Elvis Costello
The Tonight Show Starring Jimmy Fallon: Saoirse Ronan, Timothee Chalamet, Camila Cabello
The Late Show With Stephen Colbert: Sarah Jessica Parker, Pete Holmes, Jack Black
Late Night With Seth Meyers: James Franco, Lawrence O'Donnell, the Roots featuring Bilal, Allison Miller
The Late Late Show With James Corden: Judd Apatow, Aaron Sorkin, Rachel Platten
The Daily Show With Trevor Noah: Dee Rees