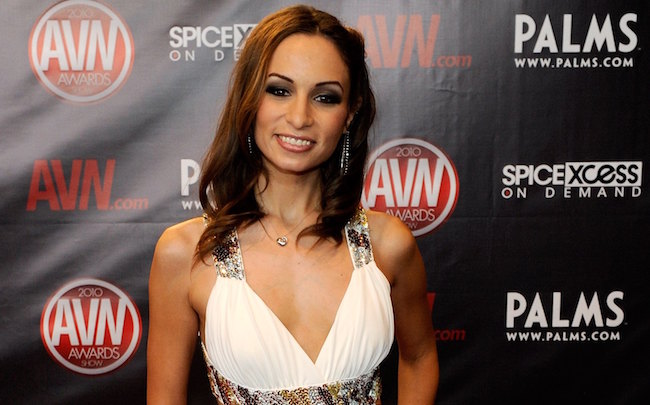 Amber Rayne, an adult film star who made headlines last year when she added her voice to the many accusing adult performer James Deen of sexual assault, has been found dead at her home in Los Angeles. The star was 31 years old.
The Daily Mail reports that no foul play is yet suspected in the death and that an autopsy is scheduled for the end of the week. According to those who knew her, however, Rayne, who is said to have "passed peacefully" in her sleep, was not suffering from any major problems. In fact, on Friday night, only hours before she died, Rayne posted a humorous tweet to her followers, suggesting a friend was coming over with pizza and ice cream to (allegedly) dull the pain of a bad day.
Fellow adult film star and director Stormy Daniels has reached out with a message of devastation after hearing the news of Rayne's passing: "She was a really good friend," Daniels said, "and one of the best actresses and performers that I've ever had the pleasure to work with, and I'm just glad that I had the opportunity to work with her and call her a friend."
Rayne spoke openly to The Daily Beast in 2015 about allegations against Deen. While the two remained friends, she pointed out that a scene they did together landed her in the hospital:
Amber Rayne, who acknowledges that she and Deen are now friends (although she makes it clear that that doesn't excuse his actions) was once so physically injured by Deen that she couldn't finish a scene the two were doing. According to her, he hit her in the face while they were engaged in sex on-screen and then brutally ravaged her genitals, making it impossible for her to finish the scene and ultimately requiring medical attention and stitches. According to The Daily Beast, even the director was shocked by what had transpired.
An outpouring of support for Rayne can be found on The Adult Video Network site.