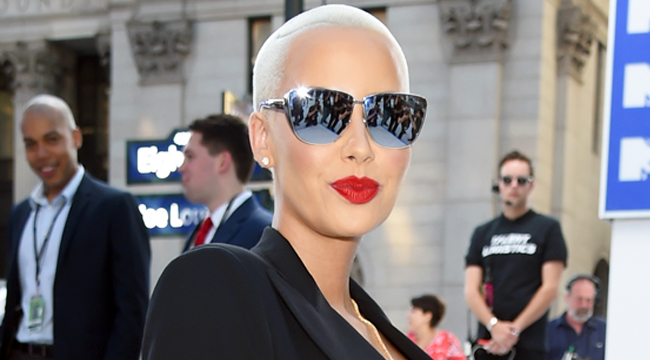 Gwyneth Paltrow hasn't courted the spotlight in awhile, but she resurfaced this week with a New York Times GOOP-centered profile that was chock full of WTF quotes. And coincidentally (or not), Amber Rose is now also making headlines by bringing up Paltrow's name while promoting a line of vape pens. This mention is sure to kick up some scandalous outrage regarding the identity of the infamous "Becky With The Good Hair" from Beyonce's 2016 Lemonade album because Rose is positive that "Becky" is actually Paltrow.
Seems like a stretch, yes? Rose also praised Taylor Swift in the same interview, but she doesn't trust Paltrow, who used to be notorious for namedropping A-lister pals (like Madonna), and the GOOP CEO once frequently talked about hanging with Beyonce. Of course, Lemonade led even casual observers to believe that Jay-Z must have stepped out on his wife, and the true identity of Becky has since been the subject of speculation. As a result, both Rita Ora and Rachel Roy both found themselves targeted by the Beyhive, which may lose it after what Rose declared on Spencer and Heidi Pratt's podcast. Via Variety:
"I definitely think that Gwyneth Paltrow is 'Becky with the good hair.' I really feel like she's she's the one who was, like, f***ing Jay-Z … They were like friends, and then, like, you don't see Gwyneth Paltrow with Beyonce anymore. But like Beyonce's still with Jay."
Years after the Lemonade scandal first hit, it's worth going back to revisit the long-running friendship of Paltrow and Beyonce. For about a decade, the two were often spotted together at events, and in 2006, Paltrow even performed a duet with Jay-Z as guests that included her then-husband, Chris Martin, also appeared onstage. While it's still difficult to believe that Paltrow could be Becky, Rose traced the timeline while speaking with the Pratts, and she noted that Paltrow never mentions Bey anymore … which is true. Does it mean anything? Probably not, but if you see a bunch of bee icons pouncing on Paltrow's social media accounts, Rose's words would be the cause.
(Via Variety)