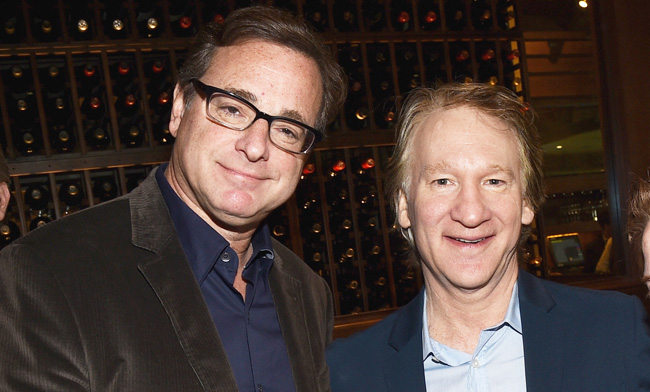 It's only been two days since Al Franken stepped down from his position as Senator of Minnesota, with his temporary replacement Lt. Gov. Tina Smith being sworn in on Wednesday until a special election is to be held. Franken's resignation was controversial in that prominent Democrats led by Sen. Kirsten Gillibrand (D-New York) called for the former Saturday Night Live comedian to resign in the wake of a handful of sexual misconduct accusations (which, for the most part, Franken denied), only to have others pull an about-face and plead with him to reverse his decision.
Either way, depending how you want to look at it, the timing is kind of iffy to make light on the situation, but that's exactly what Bill Maher did early Thursday morning. The Real Time host spent New Years touring in Hawaii with fellow comic Bob Saget, and on their return flight recreated the 2006 USO tour photo with Franken and model Leeann Tweeden that started the whole mess. "These New Years Hawaii trips are getting weird," he tweeted. "Saget, forgive me!"
For what it's worth, Maher had previously come to Franken's defense, noting that while the comedy sketch in question may have been in terribly poor judgement on his part, he in no way deserved to be dumped in with accused predators such as Kevin Spacey, Harvey Weinstein, and Donald Trump. It's safe to say Al Franken probably isn't laughing, though.