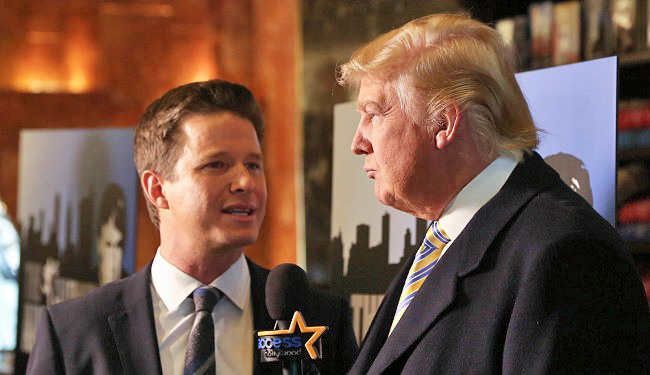 A funny thing happened during the weekly "Friday afternoon news dump" today, as video and audio from a 2005 Access Hollywood interview with Donald Trump revealed what the Republican nominee later passed off as "locker room banter." And by "locker room banter," what the Donald actually means is he and anchor Billy Bush discussed things like: Trump's "failed" attempt to "[move] on" a married woman, Bush saying his "girl is hot as sh*t," and Trump responding "grab them by the p*ssy." So yeah, a normal Friday news dump by all accounts.
Page Six spoke with an NBC News insider, who reveals that Bush is "horribly embarrassed" by the footage. Further, the insider reveals that Bush is in "a different place now" and is not at risk for losing his Today gig. However, the internet wasn't especially pleased with either Trump or Bush, though considering the former's pending child rape case, it seems no scandal of any kind can phase the White House hopeful. Bush, on the other hand, quickly caved in to the pressure and deleted his Twitter account:
Unfortunately for the lone Bush family member capable of destroying Trump, the internet never forgets. (Just ask pharma douche Martin Shkreli, or his pals Patton Oswalt and Chris Evans.) Even now, "Billy Bush" is still a hot trending topic on Twitter, where all of social media's real and would-be comedians have come to offer their detailed and intelligent thoughts on the matter.
UPDATE: Billy Bush has issued an apology.
Most were, understandably, mad:
Yet a few bright and shining stars managed to find some levity in the situation:
(Via Page Six)