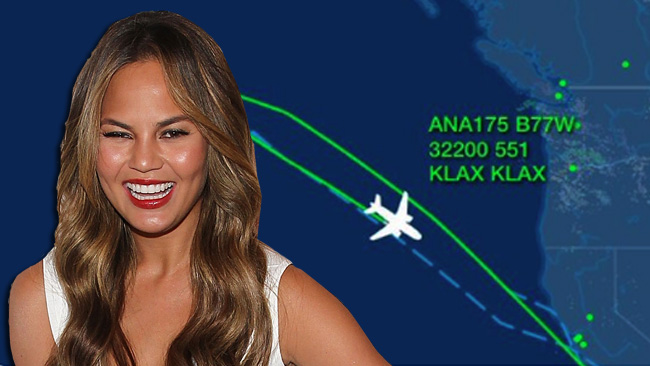 Even if you're not into Lip Sync Battle, or modeling in general, or even John Legend, you can appreciate Chrissy Teigen's Twitter. She's one of the most on-point accounts that anyone can enjoy following. From her deep thoughts on the new Animal Crossing game to her sending weird Photoshops of herself to John Mayer or her searching for Kumail Nanjiani's The Big Sick on Pornhub, it's worth keeping an eye on her feed for all the goofy stuff she gets into.
And since she lives the lavish lifestyle of an elite celebrity, she also is able to enjoy some unique situations that most will never have the displeasure of experiencing. Like turning around halfway through an 11-hour flight to Japan because someone who is "not supposed to be on the flight" needs to go home. Weird.
But, in typical Teigen fashion, she's taking an inconvenient time in her life and turning it into an opportunity to live tweet the entire thing to her nine million followers.
Behold, as she's initially upset that an entire flight is diverted for one person until she realizes the whole story is too good not to share. She also probably realizes this is more time to spend during Animal Crossing's New Year's event. Win-Win.
And when you have a following like she does, people are able to track down her flight path, no problem. She thinks it's a little strange.
https://twitter.com/JensenClan88/status/945836935259418624
Eventually, Teigen's joy comes back around to the main question once again: Why did they have to turn around? Why?!
https://twitter.com/chrissyteigen/status/945860380978380800
https://twitter.com/Raffywu/status/945866160054050821