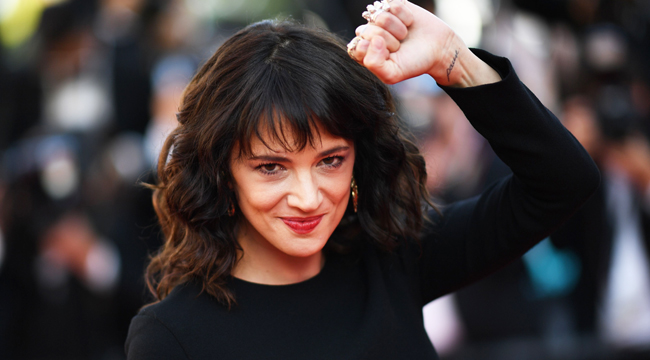 After Harvey Weinstein was arrested at the NYPD's First Precinct on Friday morning, he emerged while smiling in handcuffs while being transported to court. The disgraced mogul was slapped with several felony sexual assault charges — that included rape, criminal sex act, sex abuse, and sexual misconduct — sourcing from accusations from two women, including actress Lucia Evans, who alleged that he forced her into oral sex.
Weinstein's bond was set at $10 million, and he'll likely post the required $1 million in cash amount easily. He must also wear a GPS device and had to surrender his passport. It seems that this is the first step toward justice for dozens of his alleged victims, who were transfixed by the developments.
Lauren Sivan, the reporter who alleged that Weinstein cornered her in a restaurant kitchen and forced her to watch him ejaculate into a potted plant, tweeted that this has "been a long time coming."
At home, Italian actress Asia Argento, who recently called Cannes a "hunting ground" for Weinstein's predatory ways, tweeted video of his perp walk while asking, "What took you so long Harvey?"
Argento also wrote that Weinstein was "tak[ing] his inevitable descent to hell. We, the women, finally have real hope for justice."
Since this arrest was a forecast one, Rose McGowan appeared on GMA this morning with an immediate reaction. She admitted feeling "shocked" and added, "I have to admit I didn't think I would see the day that he would have handcuffs on him. I have a visceral need for him to have handcuffs on."
McGowan also tweeted, "We got you, Harvey Weinstein, we got you"
Prior to Weinstein's arrest, anticipation ran high. Annabella Sciorra tweeted, "Can't wait!" And Mira Sorvino spread the "#Justice" hashtag.
Thus far, the world is still waiting on reactions from Uma Thurman, Ashley Judd, Salma Hayek, and many more Weinstein survivors. From the sidelines, however, Randy Quaid landed a substantial punch on the fallen mogul.