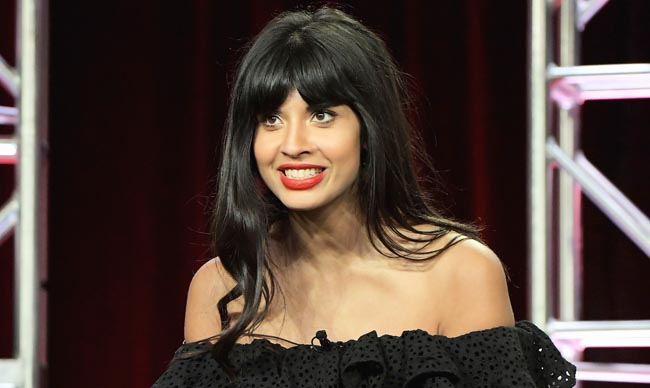 The Good Place star Jameela Jamil is on a body positivity crusade, and to all the celebrities and companies out there promoting unhealthy ideals or shady diet products — Jameela has got your number. This time, Jamil set her sights on Khloe Kardashian for promoting "Flat Tummy Tea" meal replacement shakes, of which she claimed in a sponsored Instagram post that the "progress is undeniable" after supposedly working them into her "routine" about two weeks ago.
https://www.instagram.com/p/BvP280KFj03/

In reality, there is a very small chance that Kardashian actually uses the weight loss products that she shills for. Or if she does, has a lot of help maintaining her trim figure other than using meal replacement shakes. Although Jamil has previously expressed sympathy for the youngest Kardashian sister for having been "fat shamed into a prison of self critique" by the media and industry, she was not going to let this one slide — leaving a pointed comment on the Instagram post.
You can read Jamil's comments in full below, in which she calls out Khloe for being "irresponsible" while pointing out some of the less than glamorous Flat Tummy Tea side effects:
If you're too irresponsible to: a) own up to the fact that you have a personal trainer, nutritionist, probable chef, and a surgeon to achieve your aesthetic, rather than this laxative product… And b) tell them the side effects of this NON-FDA approved product, that most doctors are saying aren't healthy. Possible Flat Tummy Tea side effects are cramping, stomach pains, diarrhea and dehydration… Then I guess I have to. It's incredible awful that this industry bullied you until you became this fixated on your appearance. That's the media's fault. But now please don't put that back into the world, and hurt other girls, the way you would have been hurt. You're a smart woman. Be smarter than this.
Despite the fact that Kardashian's post was "liked" over 1.2 million times, many expressed gratitude to Jamil for advocating and giving a voice to young women and girls who are susceptible to body dysmorphia promoted by these so-called "influencers."
She's also started a Change.org petition in an attempt to get celebrities to stop promoting non-FDA approved "diet/detox" products on social media, and clearly has no plans of letting up anytime soon. Here's to the good fight!