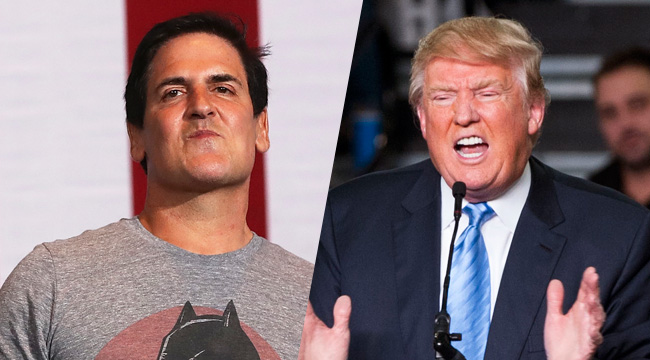 Donald Trump woke up on Sunday morning like any other normal day. That is, he impulsively selected a target and fired away on Twitter without thinking of how silly it looks for the U.S. president to beef on social media. The rest of us have that luxury, but Trump perhaps could have been hunkering down with some policy advisors over North Korea's missile-related muscle flexing, which was big news on Saturday night. Yet Trump decided, instead, to resurrect his feud with billionaire Mark Cuban.
Seriously, what is going on? The out-of-the-blue nature of the attack was worth noticing. Maybe Trump was dreaming that Cuban supported him?
Cuban made it very clear that he supported Hillary Clinton (even calling Trump "a jagoff" during an endorsement speech). He continued to speak out against Trump throughout election season on matters of policy and called out lies when the opportunity struck. And of course, Cuban perched in the front row of a debate while hoping to be Trump's grim spectre of doom.
Well, the Dallas Mavericks owner responded to Trump with a trio of tweets, but his most immediate response was … laughter.
He then posted a "how soon they forget" reminder that showed his very negative response to a Trump note, which had materialized after a Cuban CNN appearance.
And finally, Cuban gave some perspective. Quite frankly, he's relieved that Trump "is tweeting rather than trying to govern." Ouch.