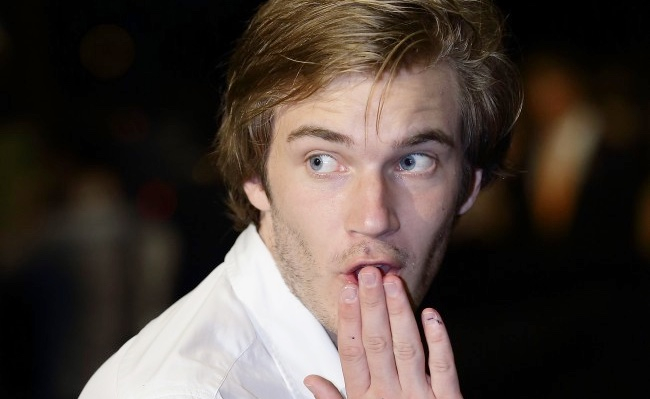 Seemingly every millennial wants to be internet famous on some level, even if they don't admit it to themselves. Some millennials, like the immensely famous YouTube star PewDiePie, more than achieve that dream and actually make a career out of the fame. But how far should you go to maintain a level of fame and crowd pleasing behavior after success arrives? On Monday, it was announced that PewDiePie had probably gone too far with the content he was posting in recent months.
Disney, who had a deal with the Swedish YouTube star PewDiePie (real name Felix Kjellberg), cut ties with the content maker after finding out — due to inquiries made by The Wall Street Journal — that he had been posting videos that included either Nazi imagery, anti-Semitic commentary, or both. While these inappropriate and hateful subjects weren't in every video (only about nine in total included such images or hate speech) it was enough of a percentage of his output over recent months that Disney did not deem it worthwhile to give PewDiePie a warning before cutting the cord completely.

The 27-year old has more than 53 million followers on YouTube, with some recent videos garnering over 7 million views and most topping at least 3 million. In a statement, Maker Studios, which is the Disney subsidiary that worked directly with PewDiePie, said ""Although Felix has created a following by being provocative and irreverent, he clearly went too far in this case, and the resulting videos are inappropriate" in regards to the business decision. The artist himself said,
"to show how crazy the modern world is, specifically some of the services available online."He added that he is in "no way supporting any kind of hateful attitudes" and that he makes videos for his audience. PewDiePie responded to the controversy by stating, that he is "in no way supporting any kind of hateful attitudes" and that,

"I think of the content that I create as entertainment, and not a place for any serious political commentary. I know my audience understand[s] that and that is why they come to my channel. Though this was not my intention, I understand that these jokes were ultimately offensive. As laughable as it is to believe that I might actually endorse these people, to anyone unsure on my standpoint regarding hate-based groups: No, I don't support these people in any way."
PewDiePie has more than 14.7 billion (with a "B") video views on the platform and has also written a book, released in 2015 to some success. How this scandal will affect his overall success moving forward is yet to be seen.
(via The Wall Street Journal)