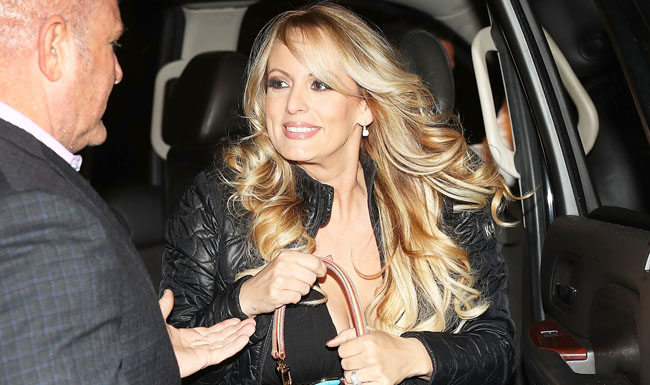 Adult film star Stormy Daniels rose as an unlikely hero earlier this year when a story came out that Michael Cohen, the personal attorney for then-candidate Donald Trump, had paid Daniels $130,000 just one month before the 2016 election to keep quiet about an "alleged sexual encounter" … which has since sort-of been confirmed, if nothing else, by the president's complete lack of denial. At any rate, Daniels has since gone scorched earth on Trump, making a porn star perhaps the only thing standing between America and the collapse of democracy. Honestly, it will be amazing if Time doesn't make her its 2018 Person of the Year.
So it seems fitting that now, in addition to her salacious tell-all book being released next month, Daniels is now the star of her own "Political Power" comic. The 24-page book was written and drawn by Joe Paradise, featuring three different covers (two paperbacks and one hardcover, all available on Amazon) drawn by comic book artist Joey Mason.
From the book's description:
Stephanie Clifford (stage name Stormy Daniels) rose from the strip clubs of Baton Rouge to the top of the adult film industry. Today, however, she is best known as the woman at the center of a hush money scandal involving the president of the United States. Through threats, lawsuits, and politically motivated arrests Clifford has refused to back down in her demand that the president be held responsible for his actions. Witness her journey from scrappy opportunist to unlikely feminist icon in the newest issue of Political Power!
Previously, the publisher of the comic, TidalWave Comics, published a similar comic featuring former FBI Director James Comey. "Non-fiction stories are sometimes more entertaining than stories involving capes and tights" said TidalWave founder Darren G. Davis. "In this case the news far-out passes traditional comic books."
As they say, truth is often stranger than fiction — which is why we're now all blessedly armed with the knowledge that the President of the United States has a donger that looks like Toad from Mario Kart. Allegedly!