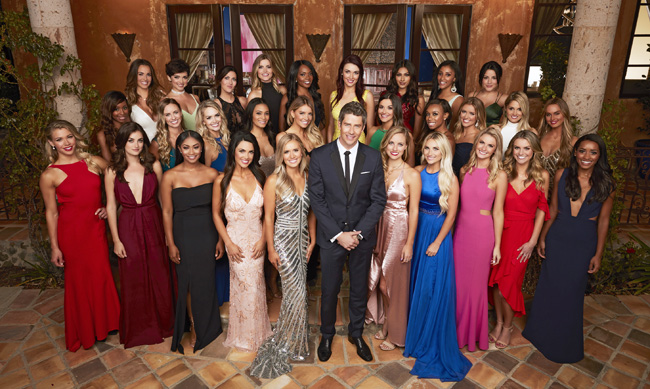 The Bachelor star Arie Luyendyk Jr. took his final three women to fantasy suites in Monday night's penultimate episode before he will eventually pick a lady in next week's finale. But thanks to a stringent casting process he won't have brought anything back home with him after filming ended, if you catch my drift.
A new book by Los Angeles Times writer Amy Kaufman, Bachelor Nation: Inside the World of America's Favorite Guilty Pleasure, takes a look into the hoops contestants have to jump through to make it onto the show. Once a potential candidate makes it to the audition stage, she is flown to Los Angeles where she undergoes psychological questionnaires, interviews with producers, a meeting with the show's on-site therapist, and of course, a medical exam where she must submit blood and urine samples.
Apparently, the medical exam is the top reason for a candidate to be eliminated from the casting process, according to a transcript of the book obtained by Page Six. If the tests reveal an STD, it's do not pass go, do not collect $200 for the unfortunate young lady in question.
"As soon as the medical tests came back, you'd see that herpes was the biggest thing," said Ben Hatta, [creator and executive producer] Mike Fleiss's old assistant. "And sometimes you'd be the first person to tell a contestant that they had herpes. You'd be like, 'Uh, you should call your doctor.' Why? 'We're not going to be able to have you on our show, but you should call your doctor.'

"Then they'd realize they'd been denied from 'The Bachelor' and now a bunch of people knew they had herpes."
It's hard to say what's worse: being turned down from The Bachelor or having "a bunch of people know you have herpes." Either way, probably a good indication that you should examine your life choices.
(Via Page Six)