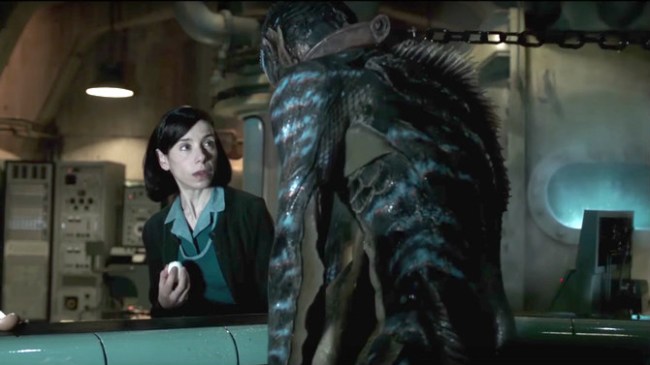 One big winner at the Oscars was unconventional love story The Shape of Water, also known as Grinding Nemo or (in international markets, we assume) You F*ckin' That Fish? The Guillermo del Toro joint took home Best Director and Best Picture, among other awards, and the win has revived interest in an unlicensed dildo (NSFW picture) based on a fan's assumption about the merman's penis. News of the piscine dildo — the dildo, never your dildo (we hope) — went viral last month and was disavowed by both del Toro and "The Asset" actor Doug Jones.
The Wrap reports the dildo was selling like hot fishcakes after the Oscars bump. XenoCat Artifacts told The Wrap that every one of their newest batch of Shape of Water-themed dildos sold out within 20 minutes of listing them on Etsy. To be fair, they only made 28 of them, probably because they assumed even 28 fish dicks was 28 too many. What a world.
Doug Jones, the actor under all of that fish makeup, lamented last month, "After pouring my heart, soul, blood, sweat, and tears into this romantic, beautiful, magical role, the last thing I want to be remembered for is a silicone appendage that comes in two sizes."
Guillermo del Toro has also gone on record saying the dildo is not accurate. In February he said, "I don't think it's an accurate representation. It's some form of fan art… I guess." It's certainly not the type of fan art every movie attracts. "I'm sure Dunkirk doesn't have that problem," del Toro said.