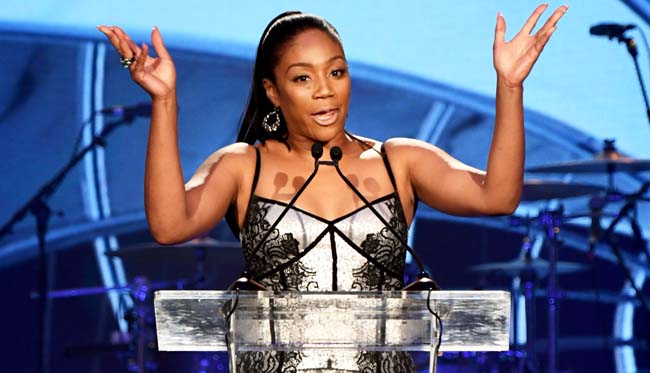 Tiffany Haddish made quite the controversial statement on Instagram over the weekend on the subject of #BlackLivesMatter and the ethical argument surrounding the wearing of animal fur. Following a set at the famed Comedy Store in West Hollywood on Friday night, the Night School actress posted a video to Instagram about how a fan who came up to say hello to her ended up giving her a fur jacket.
Apparently the gift was unplanned, as Haddish explained that the fan gushed how much she loves her, so she replied that if she really loved her, she would give her the jacket, and she did! And that's where things got complicated, as the outspoken comedienne went on to reveal that she now planned to wear fur every day in protest of police killing Black people.
So thank you so much boo, I'm gonna wear it as much as possible, because I don't know if you guys know this about me, but I'm about to start protesting. I'm gonna wear fur every day until they stop killing black people. When the police stop killing black people, I'll stop wearing fur. It's my new protest. So sorry, PETA! Don't be mad at me. Be mad at the police. When they stop killing black people, I'll stop wearing fur… Because people are important, and so are the animals … To keep me warm.
Reactions to her statement were mixed. Russell Simmons, who happens to be vegan, asked her to reconsider her position. "White supremacy is a disease that takes on many forms and has many symptoms," he commented on the post. "The abuse of other beings will not address that… or heal ourselves. I love you Tiffany but I wish you would reconsider this route of protest."
Others, such as Insecure actor Kendrick Sampson were decidedly on board, as he commented on Haddish's post.
"Look at all the people pissed at this that haven't ever stood up for Black lives. Look at the funding behind PETA and other animal rights organizations and how many people will post about a polar bear or a dog before the post about the ongoing centuries' old epidemic of black/native/brown people being killed and tortured by law enforcement (and others) with impunity.
Obviously, it's a very slippery slope as most would argue that human lives are worth more than animal lives, however one form of cruelty doesn't necessarily justify another.