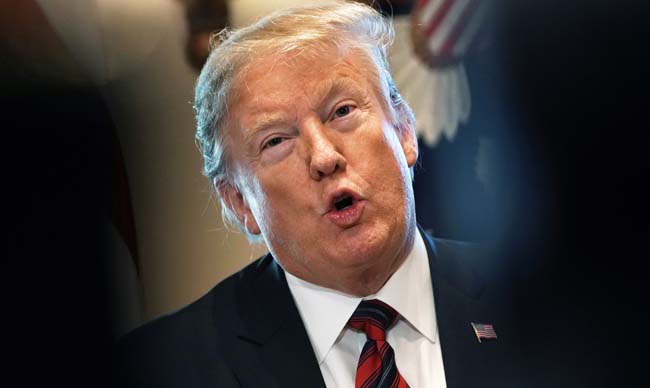 Donald Trump spent much of Wednesday morning's Executive Time lashing out at the media. This time, the president's ire appears to have been triggered by an extensive New York Times report that dropped Tuesday afternoon that delves into the internal political war that Trump has been battling against the various investigations into his affairs.
The piece touches on everything from the firing of James Comey to pressuring former White House Press Secretary Sean Spicer to lie about Trump asking for Michael Flynn's resignation. It also alleges that Trump discussed having Flynn and Paul Manafort pardoned as a means to entice them against cooperating with Special Counsel Robert Mueller's investigation. And that's just the tip of the iceberg.
Suffice to say, Trump is not pleased with the findings of the report.
"The Press has never been more dishonest than it is today," he wrote, kicking off the tweetstorm. "Stories are written that have absolutely no basis in fact. The writers don't even call asking for verification. They are totally out of control. Sadly, I kept many of them in business. In six years, they all go BUST!"
He then personally singled out the Washington Post and New York Times, the latter of which he referred to as the "enemy of the people."
While Trump regularly refers to the media in general as the "enemy of the people," this is the first time he's labeled an individual outlet with the term. Other journalists and those generally not a fan of authoritarians were quick to point out why it's highly disturbing for a sitting president to make these remarks.
And AOC also swooped in with a mic drop:
New York Times reporter and co-author of the report Maggie Haberman appeared on CNN Wednesday morning, where she refuted Trump's tweets — particularly the insinuation that no one reached out to the White House for comment before the piece was published.
"I sent several e-mails that went unanswered until yesterday. We went through a detailed list of what we were planning on reporting. They chose not to engage, and afterwards, the president acts surprised. Whether his aides are not telling him what we are looking at or whether this is a game and he knows what it is and he's pretending, I can't read his mind. We certainly follow normal reporting practices and went over it at length with the White House and the Department of Justice."
Taking all of this into consideration, on the bright side, there's probably a very good reason why this has Trump so riled up:
It's … Mueller time?