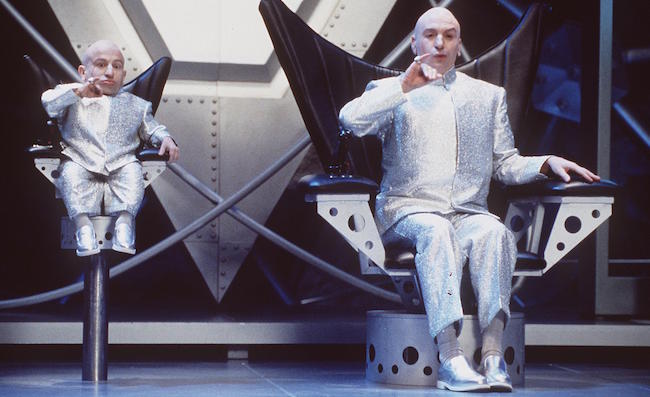 The death of Verne Troyer at age 49 has led to a period of mourning and reflection in the entertainment industry. As the news of his passing continues to be processed, a wide array of peers, colleagues and fans were moved to speak on Troyer's work and his presence as a human being behind the scenes.
Among the statements to arrive were responses from Troyer's Austin Powers family. Mike Myers, who shared the screen with Troyer in a number of comedies, offered a heartfelt message reflecting on the loss. Austin Powers trilogy director Jay Roach did the same. Both statements were published by The Hollywood Reporter.
"Verne was the consummate professional and a beacon of positivity for those of us who had the honor of working with him," read a message to THR from Myers. "It is a sad day, but I hope he is in a better place. He will be greatly missed."
Roach's statement is a touch more verbose.
"Verne was an amazing guy, a joyful collaborator, and a true master of comedic acting, a director's dream. We found ourselves cutting to his silent performances constantly to levitate the scenes. An excellent dancer too! He elevated the character that Mike Myers and Michael McCullers wrote and helped turn Mini-Me into an unforgettable, iconic character, known and referenced around the world. I feel lucky I got to know him and work with him. So sad for him and his family, but also celebrating the joy Verne brought us all."
Myers and Roach were not alone in expressing their sadness for the loss and the joy for having encountered the actor. Ludacris, Marlee Matlin, Warwick Davis, Shannon Elizabeth and Xavier Woods were also among those wanting to express their thoughts on Troyer's passing.
Troyer's Fear and Loathing in Las Vegas and The Imaginarium of Doctor Parnassus director Terry Gilliam shared a lengthy tribute to the actor on Facebook.
"Verne.. you bastard! How could you do this?" began Gilliam. "You've abandoned us!. The world is going to rat sh*t and you decide to piss off and join the choir invisible!!.. Just when we need you more than ever!!!"
"I was one of the lucky people that got to call Verne Troyer a friend," he continued. "We worked together on Fear and Loathing and Doctor Parnassus. Verne was probably the most extraordinary person I ever met. He had an amazing spirit, an energy that filled the space of a 7 foot tall, 300 pound gorilla. He was fearless and crazy, sweet and vulnerable, and one of the few people I could accidentally trip over and wouldn't get beaten up too brutally. He had a well-earned temper, he didn't suffer fools, but he understood the big joke that life can be. He has left a massive hole in my universe. Goodbye Verne, give the bastards hell wherever you are."
(Via The Hollywood Reporter)