After the enormous success of Home Alone — which was the all-time highest-grossing live action comedy film in the United States until being usurped by The Hangover Part II in 2011 — John Hughes went on to produce Home Alone 2: Lost in New York with 20th Century Fox, which was released in 1992. The second film, also starring Macaulay Culkin as Kevin McCallister, more or less followed the formula of the first, only of course this time the shenanigans were set in New York City.
The sequel saw the McCallister family planning to spend Christmas in Miami, and once again, they overslept for their flight. This time around, Kate and Peter McCallister (Catherine O'Hara and John Heard, reprising their roles) managed not to forget their youngest child, however in the resulting melee to catch their flight, Kevin accidentally boarded a flight to New York City following a man who looked like his dad — a plot contrivance that would have been impossible in our post-9/11 world.
Like in the first film, Kevin makes the most of his situation, checking into Manhattan's famous Plaza Hotel with his dad's credit card and living it up, until running afoul of the hotel's concierge (Rob Schneider) and encountering "Wet Bandits" Harry and Marv (now calling themselves the "Sticky Bandits") — eventually coming up with another series of elaborate booby traps to prevent them from robbing a toy store.
The sequel even featured another trademark "Scary Old Person" character who Kevin is initially afraid of, but eventually bonds with and gives life advice to, because it turns out all this person needed was the wisdom of a little boy to help them out of their rut. In New York, "Old Man Marley" is replaced with the "Pigeon Lady" (that's literally her character's name) who like the Scary Old Person before her eventually comes to Kevin's aide when cornered by Harry and Marv.
What most people don't know is that the Pigeon Lady was played by now-73-year-old Irish actress Brenda Fricker, who had a long and prolific film and television career both before and after Home Alone 2 before retiring from acting a few years ago. Her last acting credit was a recurring role in the Canadian series Forgive Me from 2013 to 2015.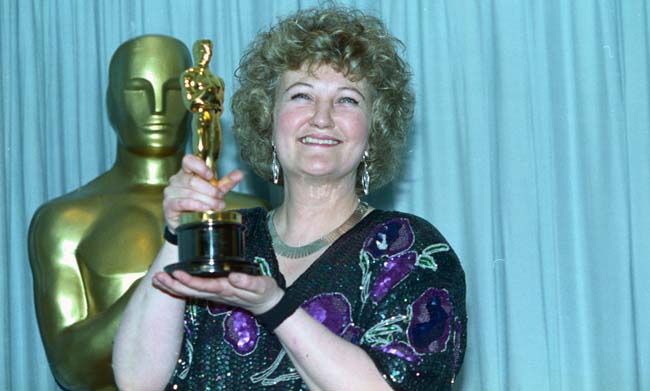 By the time she stepped into the Pigeon Lady's boots, Fricker was not just a prolific actress but also an accomplished one, having been the first Irish actress to win an Academy Award, for Best Supporting Actress for her performance in the 1989 biographical comedy drama film My Left Foot. In that film, she portrays the mother of a real-life Irish writer and painter Christy Brown, who was born with cerebral palsy and only had control of his left foot.
In addition to that role, Fricker has also appeared in films such as So I Married an Axe Murderer (1993) as Mike Myers' character's mother, and Angels in the Outfield (1994), but inarguably, she'll always be best known as the Pigeon Lady.