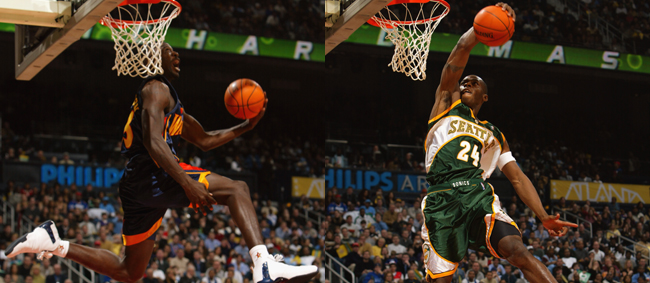 Let's forget about the 1988 Dunk Contest for a moment. We all know Dominique Wilkins got robbed. The All-Star Game was in Chicago that year, and to the surprise of absolutely no one, Michael Jordan got a little home-cooking from the judges that night after they gave Wilkins a positively stupefying score of 45 on his final dunk, then followed that up by gift-wrapping Jordan the 50 he needed to win on a dunk he'd already attempted three times that night.
MJ himself has admitted that Wilkins probably deserved to win. Not that he's giving the trophy back anytime soon.
And then there's the immortal 2000 Dunk Contest, which featured probably the most talented all-around field ever assembled, not to mention the most astonishing one-man performance by an at-the-peak-of-his-powers Vince Carter, the likes of which will probably never be replicated.
But forget about all that for now. The absolute craziest and most dramatic finish in Dunk Contest history happened in 2003 between Jason Richardson and Desmond Mason.
Several key ingredients went into making this particular contest legendary, and the folks responsible for putting on future events would do well to keep this simple recipe in mind. First, it was a grudge match between two former dunk champions – Mason, who won in 2001, and Richardson, who was defending his 2002 crown.
Second, no annoying frills. There was no poorly-conceived "Wheel," it wasn't a mystifying team event like last year, and there weren't any of the insufferable skits, props, or novelty acts that would come to make a mockery of the event by the late 2000s, just two supremely talented dunkers going head-to-head with nothing more than a ball, a hoop, and an insane amount of creativity and athleticism at their disposals.
Notice that they also made most of their dunks on the first attempt. The Dunk Contest is best when the participants take it seriously and come prepared. It also helps when they bring a little extra showmanship.