It was an interesting season for Alex Caruso. One of the bright spots for the Chicago Bulls this year, Caruso played more than ever before — his 67 games, 36 starts, and 1,575 total minutes were all career-best marks — and mixed his usually stingy defense with a step forward on the other end of the floor. While his raw numbers weren't as eye-popping alongside some of Chicago's big hitters on offense, he hit 36.4 percent of his threes, which is right around his career average, with the best marks inside the arc (55.6 percent on twos) and from the free throw line (80.8 percent) that he's seen in his six-year NBA stint.
While he admits it was "a little bit of an up and down year" for the Bulls, Caruso believes his ability to play more than ever before was a result of "doubling down on being a professional."
"I think I had a great routine this year as far as training table work before practice, making sure that I get lifts during the year, having my activation before the games, taking care of my body after the games, sleeping enough, getting the right nutrition, and then putting the work in to maintain the level that was necessary," Caruso told Dime over the phone.
Through his partnership with TravisMathew, we caught up with Caruso to discuss this year, his growth as a player, the 2023 NBA playoffs, his beloved Manchester City Football Club, and much more.
What do you have going on with TravisMathew?
TravisMathew and me, I think it's been a great, great partnership. One, for me, because I just love their clothes. I love the versatility of everything from golf, to lounging back home, to going and grabbing a bite to eat out with my girlfriend or with my friends. I can just throw it on whenever for whatever I'm going to do and I think that's why I fell in love with it. I think for them, I kind of represent their brand of not taking yourself too seriously and just being able to have a stylish yet real comfortable look.
On the golf course, are you a look good, play good kind of guy? Or are you like me and it doesn't matter one way or the other what you're wearing out there?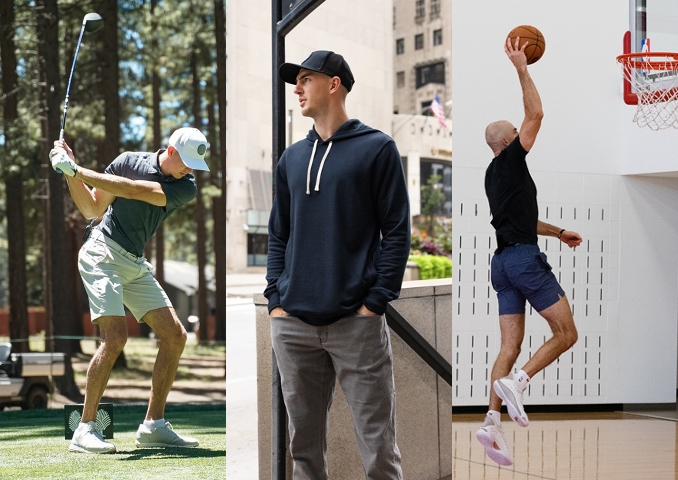 I try my best, the look good, play good sometimes works — at least when you play good. But when you look good and play bad, then it's just kind of like, you're just there. So, for me, I wish TravisMathew made me play as good as Jon Rahm or Sam Burns, the guys they have. But unfortunately, it doesn't affect the skills at all.
Let's talk a little bit of basketball. What are your big, broad, overarching thoughts on this season, both for yourself and for the Bulls?
For the team, I thought we had a little bit of an up and down year. We beat some of the really good teams in the league, and then dropped a couple contests to teams that you mark down as wins on the schedule when you're looking at it. And I think that's probably what just held us back a little was just a little inconsistency. But it's tough because we know what we were capable of when we played our best, and that's kind of the sour taste in your mouth as you go home the middle April rather than playing into May. So obviously, a little underwhelming and disappointing year for us, just given what we expected to be at. But I thought at certain points, we played really, really good basketball.
And then for me individually, I thought I had a pretty solid year. I thought I shot the ball, I think I might have had a career-high free throw percentage, field goal percentage, shot the three at league average, if not a little better. And then obviously, everybody knows defensively what I'm capable of and how I operate on that end. And I thought I did a good job of managing that throughout the year. So individually, I felt really, really good about my year, just obviously wish we could still be playing basketball.
You played more than ever before this year. And obviously, health is a big part of that, but where do you feel like you took your biggest step forward as a player this year?
I think it was just the professionalism. I think I had a great routine this year as far as training table work before practice, making sure that I get lifts during the year, having my activation before the games, taking care of my body after the games, sleeping enough, getting the right nutrition, and then putting the work in to maintain the level that was necessary. I think for me, it was probably just doubling down on being a professional. I think that's probably why I had such a good year individually was because I think my routines and the discipline I had were pretty good.
You look at basically any metrics, and you were one of the best defensive players in basketball. And I want to know, how do the Bulls — Billy [Donovan], your teammates, whomever you would say — put you in the best position to take advantage of what you can do on that end of the floor?
I think they have a lot of trust in me. I think that's where it begins. Just, they know that I'm always doing things in the best interest for the team. Whether I make the play, I don't make the play, they know that I have the back of my teammates and they back me in that sense that I can go out there and play my ass off and sometimes make a couple of mistakes, but they understand that there's gonna be a lot more good than bad. And they believe in me, and they kind of almost encourage me to be more aggressive sometimes. So, I think just having their trust and the faith of my teammates and coaches really goes a long way.
On the other end of the floor, something you mentioned but by basically every metric, you had your best offensive season in the NBA, but also, you had the lowest usage of your career. How do you balance having such a good year with, "I'm going to pick my spots, because we have Zach, DeMar, Nic, etc. out there"?
It's just taking the role on the team that I needed to play. That's what I've always been about, whether it was from college, to the G League, to breaking into the league. I'm doing what I think, what the coaches think, what everyone thinks is best for the team, that's kind of just what it was this year. I put in a lot of work last offseason to be able to have those numbers that we talked about as far as career averages. And I'm gonna go back to the same mentality this year, and be ready to take on whatever role that comes my way next season. I'm very excited about being able to have career numbers, but there's always a carrot in front of you that you're chasing. And for me, it's maybe putting in the work so that I can carve out more responsibility on that end, because I carry so much of a load on the defensive end.
One thing that you mentioned was this year, you doubled down on professionalism and your routines and things like that. What were some of the things that you felt like you did that helped put you in the position that you found yourself in this season?
Like you said, being able to play the most games I've played in the season so far, just working with my trainer — honestly, the whole training staff. Arnold Lee, that's the guy that I worked with the most and I'll give him a quick shout out. But just being consistent, him understanding what happens with my body throughout the season, being able to manage — I had some left foot issues that were going on, and being able to minimize missed games with that. And just keeping on top of it, whether it was stretching before practices and getting treatment an hour, hour and a half before anybody needed to be there, to being at the same … you know, 90 on the clock is when I usually shot pregame. So, two hours before, we're on the training table getting stretched, and I'm going to the weight room to get activation. Just having that routine I think really opened up for me to have such a good year.
What has stuck out, or surprised you, or made you the happiest to watch as you've got to check out these really excellent playoffs so far?
They've just been wildly entertaining. It's been really, really good basketball, all the way around. Whether it's been upsets like Miami, or even the Atlanta-Boston series being pushed to the brink when everyone kind of thought that would be a four or five-game series. I think the basketball has been at a really high level. Kings-Warriors was a great first round series, Lakers-Grizzlies had their drama, which made that a little bit more entertaining. I just think the basketball, the product on the floor has been great, and usually the first round is a little more storyline filled, and then a little more drama, and then you get on to the second round and the conference finals and the Finals and it's a little more basketball oriented. But it's been, I think, great basketball from the start.
Yeah, it feels like it's very easy to sometimes get caught up in the narrative and the off court stuff, but I feel like when you sit down and watch these playoffs, every game just seems to be a banger for some reason.
And it's just been wildly unpredictable, which I think makes great entertainment value for the fan.
I need to ask, as a fellow Manchester City supporter, are we winning the treble this year?
I think this is as good a chance as we'll ever have. I think we get past Real Madrid and the semis of Champions League, and then I think it's a real conversation to have, because those guys, the history they have in the competition is unparalleled — so, they've been there before and they have the confidence, no matter how much time [is left], because we obviously know what happened last year. It'll be a grind, but I think once we get past them and the semis and we make two finals, and then pretty much hold our own destiny for the Premier League, I think it's a real possibility.
I don't know about you, but it feels to me like the way that they handled Arsenal last week, any doubt that I had that they could do it — I don't know if they will because of how hard it is, but with what they did against Arsenal, it feels to me now, like, okay, I actually believe they could do this.
Yeah, I mean, they're just clicking on all cylinders, dude. Their defense is playing solid. Midfield has obviously been elite for years now. And then [Erling] Haaland's Haaland, and you're getting great play from Jack [Grealish] and Bernardo [Silva] and [Riyad] Mahrez, whoever's over there on that right wing — and [Phil] Foden hasn't even play for basically the last month. We got a really good team.
And obviously, they're very, very, very, very different sports, but you know from your time in L.A., kind of going to Haaland, what it's like to be on a team before and after it adds those best player in the world kind of guys. Again, not 100 percent the same, but what does it do for the guys who have been around and on a team when a squad-changing addition like LeBron James, Anthony Davis, Erling Haaland comes into town?
It's kind of two parts, right? Like, you kind of gain this confidence of, you have a world-beater on your team that, really, you think you can win every game no matter what, because you have them on your team. But then also, the second part where it brings us responsibility, almost, where you feel like, okay, well, we're supposed to win now, so now we have to go out there and prove it. And I think as long as you can balance that and not make it seem too big a task, you'll still go out there and just play how you're supposed to play and do what got you there. That's usually when you have good success.
This interview has been lightly edited for clarity.