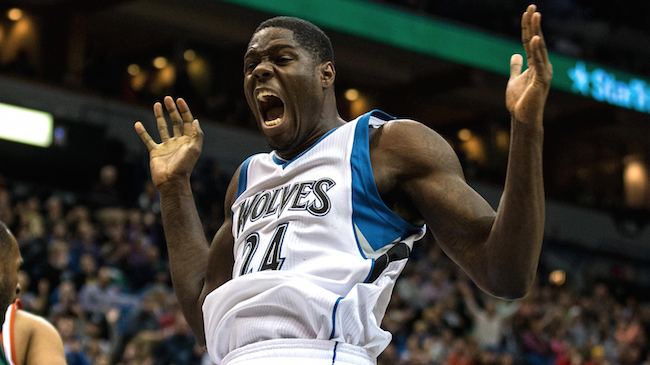 There comes a time when draft position has no more bearing on a young player's long-term prospects. And unfortunately for Anthony Bennett, it seems the Minnesota Timberwolves believe it's come for him.
According to Adrian Wojnarowski of Yahoo Sports, Minnesota is currently engaged in buyout talks with the No. 1 pick of the 2013 NBA draft.
Many believed that Bennett's recent performance with Canada on the international circuit was a sign that he'd turned the corner toward becoming a useful NBA player. But quality of competition matters in assessing an individual's worth, and the 22-year-old didn't physically dominate substandard opposing big men this summer the way he should have – and often fell prey to the same errors of judgement and understanding that marked his first two years in the league.
It also bears mentioning that this turn of events – should the parties eventually and officially part ways, of course – is also a matter of circumstance. With youngsters like Karl-Anthony Towns, Nemanja Bjelica, and Adreian Payne in the frontcourt alongside Kevin Garnett and Nikola Pekovic, Minnesota just doesn't have enough room to spend time developing a player of Bennett's caliber – in this season or ones going forward.
Make no mistake, though: There's still time for Bennett to carve out his niche in the league. He's yet to reach his athletic prime, and it takes years before some players gain a strong grasp of the advanced on-court concepts utilized in the NBA. Bennett's career, despite this latest setback, isn't close to over.
But it didn't work out for him with the Cleveland Cavaliers, and his fate with the Timberwolves is close to proving the same. No matter Bennett's next opportunity comes, here's hoping he makes the most of it.
[Via Adrian Wojnarowski]