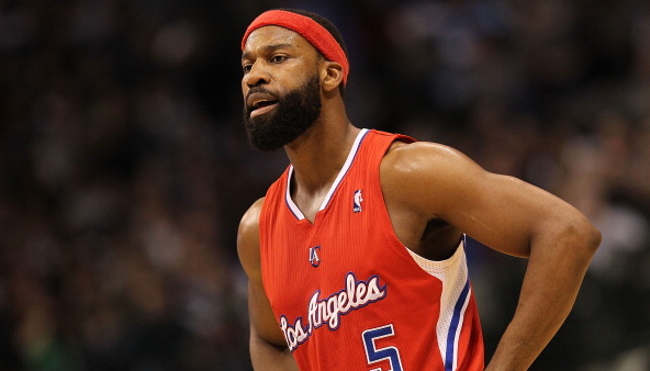 Ladies and gentlemen, it's that time of year again. We're talking, of course, about the annual Baron Davis NBA comeback spectacular. A few years ago, B-Diddy brilliantly satirized his own would-be career resurrection in a series of short films produced by the production company he founded with Steve Nash.
But at some point, the line between reality and self-parody got blurred. That line has now dissolved entirely. Exhibit #327: Here's Davis sitting court-side at the Clippers' game against the Kings in Sacramento over the weekend doing an in-game interview with Jaime Maggio.
Davis does his best Kenny Powers impression by talking mad trash to former league pariah and current Clippers broadcaster Bruce Bowen, before once again throwing his proverbial hat onto the hardwood for his former team, whose injury-depleted roster is in desperate need of reinforcements, particularly at the point guard position.

Davis continues to showcase his timeless skills at the Drew League each summer, where he routinely embarrasses defenders half his age, but at 38 years old and with his injury history, it's unlikely he has enough left in the tank to be a serviceable NBA player even for abbreviated stints.
We'd much rather see him paired up at the broadcast table with Bowen, where the endless potential for trash talk alone would be worth the price of admission.