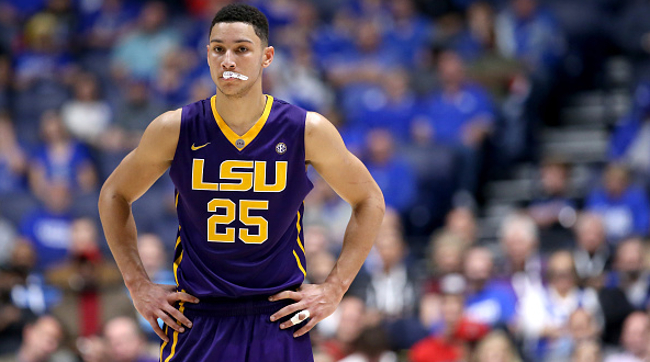 Ben Simmons' college career has come to a rather abrupt and unceremonious end. After LSU failed to make the NCAA tournament, the program opted against an opportunity to play in the NIT. Their humiliating blowout loss in the SEC tournament came just a week after a report that Simmons was ineligible for the Wooden Award due to academic reasons. It was a revelation that came to the forefront during LSU's loss to Kentucky on March 5 when opposing fans pelted Simmons mercilessly with chants of "GPA."
Now, it appears those off-the-court issues, along with troubling inconsistencies in his play, have combined to knock the former consensus No. 1 pick in this summer's Draft off the top spot of at least one high-profile leader board. On Monday, Jonathan Givony of The Vertical explained his rationale for why Simmons is no longer at the top of their current 2016 Mock Draft:
Simmons' lack of competitiveness in some crucial games has raised questions about his character as a basketball player. While many top picks succumb to the NBA star lifestyle and emerge as average competitors, it's rare to see that at the collegiate level. From Blake Griffin to Michael Beasley to Carmelo Anthony, those elite college players were rarely questioned about their drive during their collegiate careers. Simmons has displayed an apathy for defense, contact and delivering winning plays in crucial moments. Those troubling revelations in Simmons' game are cause for concern among decision-makers on lottery teams with whom we've had contact.
Givony doesn't stop there. He goes on to accuse Simmons of stats-chasing, lackluster effort on defense, and even alludes to other character questions stemming from his time with the Australian national team as a high school player. With three full months remaining before the NBA Draft and an entire NCAA tournament in the interim, it doesn't bode well for a player who was once considered a shoe-in for whichever NBA team is fortunate enough to land the No. 1 pick.
But the narratives surrounding polarizing players like Simmons tend to change quickly, and the pre-draft workouts later this spring could prove a turning point when the unnamed execs Givony claims are currently lukewarm on the LSU star get a chance to see the prospects up close and personal.