We're inside of a month before the start of the NBA season, and preseason basketball is alive and well, sorta. It's now when we'd like to reflect on those free agency signings that shook the power foundation around the league. It makes sense considering how Kevin Durant's decision on July Fourth this past summer rippled out to affect everyone in the game. Some signings simply shift the power structure in the whole darn Association, and Durant's certainly qualifies, but what other big free agency signings have tilted things so dramatically when one player decides to sign with another team? That's what we're going to look at.
Kevin Durant to the Golden State Warriors
Previous team: Oklahoma City Thunder
We begin this voyage through the transactions that changed NBA history in California's Bay Area as a potentially paradigm-shifting signing happened this summer when the Golden State Warriors wooed Kevin Durant during free agency. The Warriors are coming off consecutive NBA Finals appearances and just set an NBA record for most wins in a single season.
Durant is the last player to win the NBA's MVP award since his new teammate Stephen Curry, who has won the last two. The Warriors have been the most prolific scoring team in the NBA over the last two seasons, and Durant is the only player in the league who has a legit claim as a better scorer than Curry. And what Durant adds on the other end of the floor could prove to be the difference between winning, or losing, a Game 7 this season.
The book has yet to be written on these Warriors. Hell, we haven't even gotten through the prologue. But Durant heading west could go down as one of the biggest moves in NBA history.
Jamaal Wilkes to the Los Angeles Lakers
Previous team: Golden State Warriors
Jamaal Wilkes has one of the greatest careers that was consistently overshadowed by other great careers. Scottie Pippen immediately comes to mind in this discussion, but he was only overshadowed by Michael Jordan (admittedly, there isn't a bigger shadow to play under). But Wilkes had to fight to shine beyond the shadows of Magic Johnson, Kareem Abdul-Jabbar and James Worthy. Even in his college career, he was one of the other guys who helped Bill Walton lead UCLA to consecutive NCAA titles — and he was a two-time All-American.
With the Lakers, Wilkes helped the team to three titles over a six-year span, averaging 20 points and five rebounds per game on 53 percent shooting over the first five of those years. He was nicknamed 'Silk" for his smooth offensive game, but it was what he did on the defensive end of the floor that helped the Lakers the most. Wilkes could defend three positions. Teamed with Michael Cooper, they made it easy to hide Magic Johnson on the defensive end, allowing him to work his magic on the other side of the floor.
It took a while, but Wilkes was able to emerge from the shadows of all of the greats he played with, entering the Basketball Hall of Fame in 2008, with both the Lakers and UCLA retiring his jersey. As for the Warriors, they saw their win totals drop every year for the next three seasons after letting Wilkes get away.
LeBron James to the Cleveland Cavaliers
Previous team: Miami Heat
In the summer of 2014, LeBron James made a decision to leave Miami, where he had just competed in four consecutive Finals, winning two of them, to return back home to Cleveland in an attempt try to win the franchise its first-ever title. While the Cavs lost in the Finals the year James returned home, they followed up that season by defeating the Golden State Warriors in dramatic fashion by coming back from a 3-1 deficit to claim the crown in an epic Game 7 on the road.
James didn't just go back home, he fulfilled a prophecy bestowed upon him while he was still in high school. He was named "The Chosen One" for the sole reason that he would come in and change the way we thought about basketball. And after 13 years, he's starting to challenge a fundamental truth that we've all held dear for decades: Michael Jordan is the greatest basketball player ever.
While James still has a bit more work to do in that department, he's gunning for that title and has a narrative that can add to his mythos in ways that no player has before him. Today, Miami doesn't employ any of the Big 3 he teamed up with in 2010, and the Cavaliers are in prime position to defend their first title.
Shaquille O'Neal to the Los Angeles Lakers
Previous team: Orlando Magic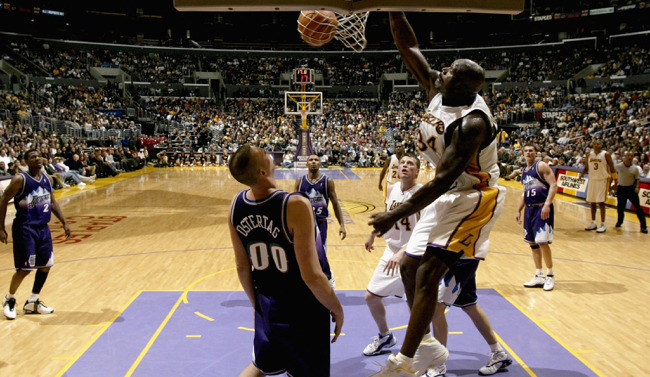 What can we say about this signing that hasn't been discussed already? Shaquille O'Neal was brought in to help lead a new generation of Lakers basketball and only put up three consecutive Finals performances that have gone unreplicated by any big man since. The Lakers won their first title since 1987 in the 2000 season, their first year in the Staples Center, with O'Neal averaging 38 points and 17 rebounds in the final round. The next year, O'Neal was good for 33 and 16 in the Finals. In 2002, it was 36 and 12.
O'Neal won the Finals MVP in all three seasons and won the regular season MVP in 2000. While many will point to the feud between him and Kobe Bryant as a reason that the team didn't continue their domination, their run is still one of the best in NBA history, especially during the 2001 NBA postseason: they nearly went without a loss in the entire playoffs. Save for a phenomenal 48-point performance from Allen Iverson in Game 1 of the Finals, their record was unblemished that spring. But even after AI went off, we all know how that series ended: with a whole lot of Shaq.
Steve Nash to the Phoenix Suns
Previous team: Dallas Mavericks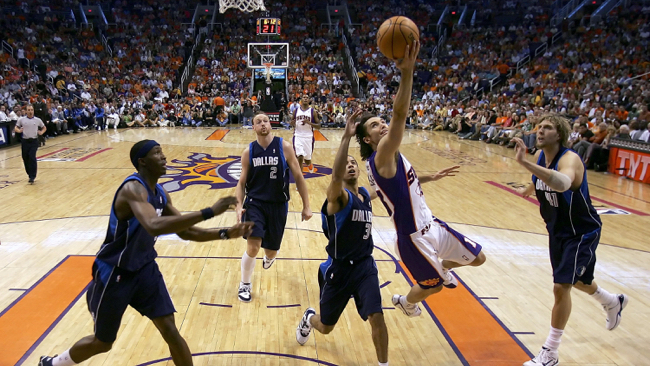 If the Sacramento Kings were the ostensible start of a trend that is now table stakes in today's NBA, the mid-2000s Suns established the style and made the shift comfortable. The Dallas Mavericks didn't believe that Steve Nash was worth a long-term deal at the ripe age of 30, and Nash spent the next few seasons changing basketball in Phoenix with head coach Mike D'Antoni.
Nash's Suns created an archetype that has been replicated, shifted, altered and adjusted several times over since the style of play took storm in 2005, but there just aren't any point guards who can run a team quite like Nash. Chris Paul has the vision Nash had, but doesn't play with the kind of urgency we saw from two-time MVP. Curry is as efficient a scorer, but just isn't nearly as crafty at setting up teammates.
Nash didn't just change basketball, he won two NBA MVP awards during a time when Shaquille O'Neal, Kobe Bryant, LeBron James and Dwyane Wade were all in or entering their primes. Nash introduced us to a world we didn't even know we wanted to exist, and he did all of this after eclipsing year 30.
LeBron James and Chris Bosh to the Miami Heat
Previous teams: Cleveland Cavaliers, Toronto Raptors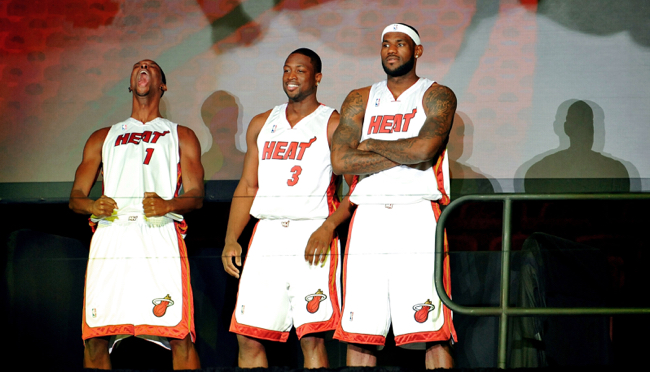 While LeBron James returning back to Cleveland might ultimately play out as a much bigger signing than James and Chris Bosh joining forces with Dwyane Wade in Miami, today this is still a much bigger deal in terms of altering the course of NBA history. Three of the NBA's biggest stars, all free agents at the same time, came together to join forces on their own terms. It was an unprecedented move at the time, signifying the fact that the players had much more power to manipulate their future than previously suggested.
While James likely has regrets about how he made his decision, the decision itself resulted in two rings and four trips to the NBA Finals. Wade and James collaborated on a few of the most iconic alley-oops we'll ever see while Bosh served as a quiet, but steady leader keeping everything together with his patience and calculated maneuverings on when to be aggressive and when to defer to the rest of the team. James was able to shake off the choke-artist moniker he never really deserved, Wade added a couple more rings to his collection, and Bosh proved — enough that he should be in the Hall of Fame — you can be the man and sacrifice for the sake of the team to be a fantastic role player at the same time.