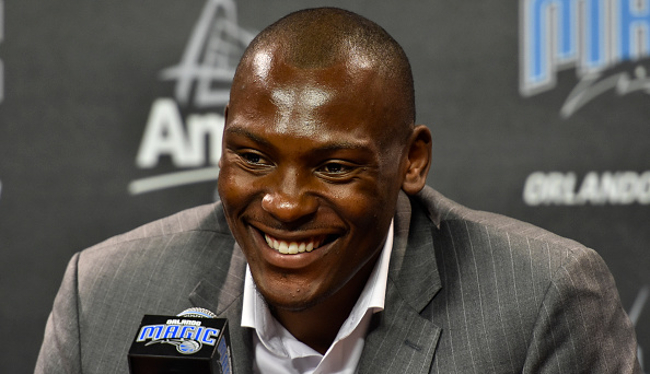 Every year during the playoffs, a young and/or little-known NBA player will have a breakout moment. This year, that player was Bismack Biyombo, who stepped into a more prominent role with the Toronto Raptors after Jonas Valanciunas went down with an injury during their second-round series against the Heat.
His stellar all-around play instantly made him a hot commodity this summer in free agency, and the 23-year-old native of Congo cashed in when he signed a four-year, $70 million contract with the Orlando Magic. But just how he arrived at this point is the stuff of legend.
Growing up in Africa, Biyombo and his family endured crushing poverty. He often went without food and shoes, the latter of which was particularly inconvenient given his hour-long trek to attend the nearest school. Somehow, Biyombo overcame those challenges and more on his way to NBA stardom.
As a teenager, he was offered an opportunity to play professional basketball in Qatar, but simply getting there turned out to be an odyssey in itself, and Biyombo and a few of his traveling companions suddenly found themselves stuck in a Tanzanian prison. Via Marc J. Spears of The Undefeated:
"They thought we were running from the Congo because of the struggle there," Biyombo said. "That was my first time being in a jail. I never wanted to be in a jail. Every time I see police, I was scared because of how I grew up. They arrested us at 3 a.m. and they released me about 6 a.m.

"The smell was terrible. I wouldn't say the prison was like a jail. A jail in Africa is nothing close to a jail in the United States. People would be happy to be in a jail [in the U.S.]."
From there, Biyombo's circuitous route to the NBA took him through Yemen and Spain before he landed a roster spot on the 2011 Nike Hoop Summit World Select Team. He certainly made a lasting impression, which resulted in him being selected with the No. 7 pick in that summer's draft by the Sacramento Kings, before being traded to the then Charlotte Bobcats.
At such a young age, Biyombo's promising career is just getting started, but even arriving at this point has already been a journey of mythical proportions. If that doesn't make you cheer him on, then who knows what will.