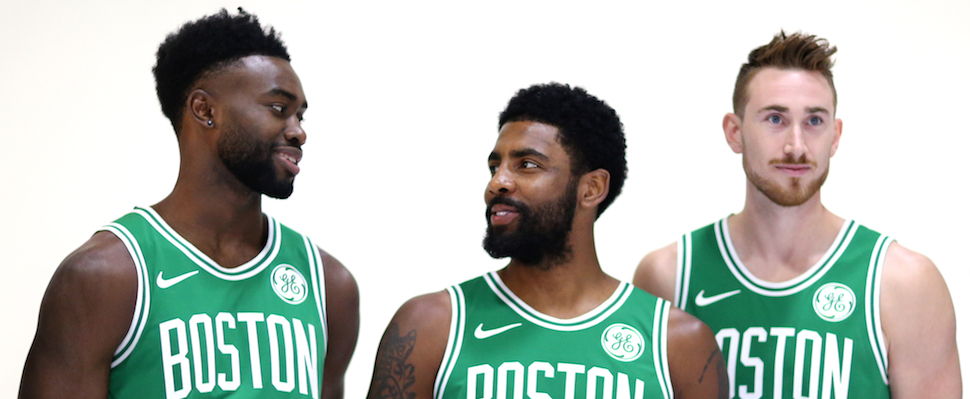 CANTON, MA — On the third day of fall and the first day of the 2018-19 Boston Celtics season, Marcus Smart spoke of the coming storm.
The weather outside was cloudy. Inside the studio where the Celtics were taking team photos was colder than they'd like. Only the media room was warm, according Kyrie Irving. But that weather wasn't the kind of storm Smart meant, anyway. Not really, anyway.
Most everyone on the Celtics spoke of the great summer they had in their first meetings with the media. Everyone except maybe Smart, who watched his mother's cancer slowly end her life. Smart told reporters in April that his mother, Camellia, had myelodysplastic syndrome, a cancer caused by abnormal cells in bone marrow. He eschewed focus on his free agency to return to Texas and be with his family.
Everyone worked out and got healthy and even played some pickup games together before training camp truly began on Tuesday. They're all ready to have fun together and not worry about who gets minutes where. But for Smart, a return to basketball season is an escape from the rest of the world, a world that's tough for him to bear.
"I look at basketball like a storm, but it's the eye of the storm. The calmest place is right in the middle of it, the eye of it," Smart said. "That's what basketball is for me: it's the eye. While everything else is distracting me, the destruction, things like that, basketball keeps me calm."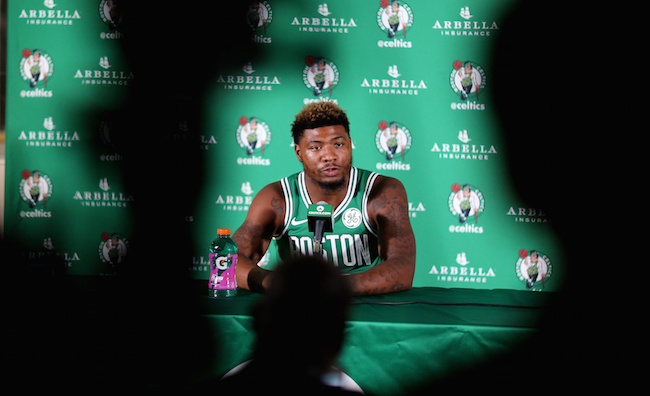 What will follow this version of the Celtics this season is another kind of storm, though. Expectations are high. Even higher than they were last season, when Irving was a recent acquisition along with free agent signing Gordon Hayward. That Celtics team was a game away from the NBA Finals, but Hayward's season only lasted nine minutes. Irving, too, was shut down before the postseason and endured a harrowing offseason surgery. Still, only LeBron James kept them from facing the Warriors, an obstacle they won't have to deal with this year.
This is a storm Irving battled more than any Celtic last year, and he says the turmoil that comes with that pressure is behind him. Irving admitted before media day that the pressure that came with asking for a trade was immense. It distracted him. This year he's healthy, and more than anything he wants to be happy.
"Last year I had one of the best statistical seasons of my career and it was like crazy how I did it because the amount of distractions that were going on outside of it," Irving said on Monday. "You realize, 'OK, what if I add a little bit of happiness to playing basketball instead of worrying about what's going on outside of this? Maybe we'll see what that looks like.'"
Irving described himself as the leader of the Celtics on Monday. He spoke about managing egos and making sure everyone is on the same page with playing time and the roster juggling that Brad Stevens will have to do to keep competitive athletes happy.
"Obviously the big thing is just managing our egos individually, because this is the best team of talent that I've been on," Irving said.
There are expectations, but also exceptions. Everything is tenuous. The Celtics are a team keenly aware of how quickly injuries can happen and rosters can look dramatically different. Interpersonal conflicts can erupt, and it's impossible to predict the future. But that sense has also given this team, from Irving to Hayward and even to Daniel Theis, a sense of perspective.
"I've had the game taken away from me a couple of times throughout my career through unfortunate events," Irving said. "I think that you just become a lot more maniacal about the game. You're just a lot more grateful for the opportunity to play the game that you love and you start realizing that you have to do a lot more of the little things than you did before."


The other word that bounced around Celtics media day was "special." Irving is a "special" player and the Celtics could be in for a "special season." Aron Bayes, who re-signed with the Celtics for just that reason, explained that he's felt this on a championship-winning team before.
"That's one of the biggest things I saw in 2014 with the Spurs: everyone set aside their egos and allowed us to be great. And that's one of those common things I see here in Boston," he said. "We definitely want to add to the banners on the back of the wall. But it's a daily focus and it's a long way down the road. We have an opportunity to be special, so it's about everyone buying in and going out and doing things on a daily basis."
The day-to-day of basketball, everyone seemed to stress, becomes that much more engrossing once it's taken away from you. And that's why the Celtics are saying the right things in September. The postseason, and a shot at the Warriors or whoever makes it out of the Western Conference, is still months away. But the journey has begun and, right now, thats good enough for everyone in green and white.
It rained in Boston on the first two days of training camp. No one on the court for the Celtics seemed to notice.