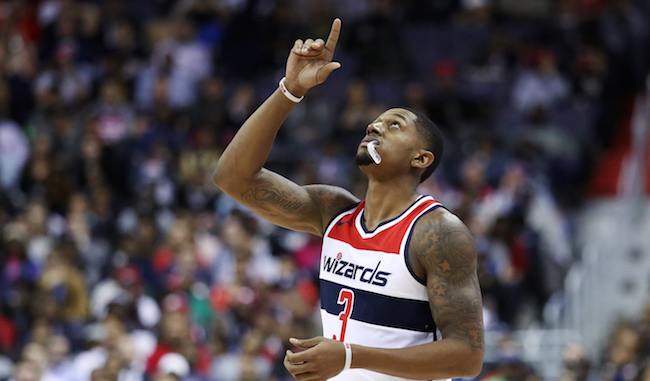 When Bradley Beal and Draymond Green's scuffle on Friday night happened the immediate thought was both likely All-Stars would find themselves suspended, as would Kelly Oubre, Jr. who threw a punch at Klay Thompson (and appeared to hit teammate John Wall in the back of the head).
Beal and Green went to the ground after Green took exception to being hit in the head by Beal, and as players rushed to separate them, Oubre appeared to go after Thompson with attempts at a punch. On Sunday, punishments for the altercation were announced and to the surprise of many, no suspensions were handed out to the major players involved, only fines.
There were two players suspended for the incident, as Markieff Morris and Carrick Felix both will sit out one game for leaving the bench area during the altercation.
It's generally a good thing when players aren't suspended, even if it comes as a surprise. Oubre was apologetic afterwards, but as the one player that seemed to throw a punch (which tends to be the automatic qualifier for a suspension) and having avoided an ejection immediately one would have assumed something more severe may have come his way. Beal was hit with a $50,000 for instigating the fight and Green's $25,000 was for "continuing" the altercation, which assuredly will only make him more upset considering he wasn't happy with his suspension in the first place.