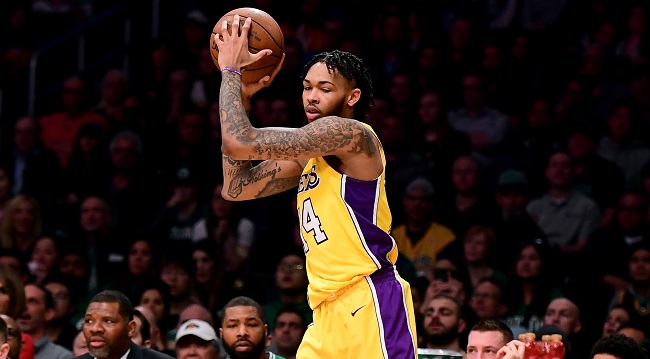 The Los Angeles Lakers are playing better basketball in recent days, including an active five-game winning streak that featured road victories over the San Antonio Spurs and the Miami Heat. While not all of that can be attributed to improvement from former No. 2 overall pick Brandon Ingram, the 20-year-old averaged 18.6 points, 5.6 assists and 5.2 rebounds per game in the month of February, and by all accounts, he is beginning to round into form.
However, Ingram's renaissance was sidetracked by an injury suffered in the team's game against the Heat on March 1 and, on Monday, the Lakers announced that he will miss at least an additional week with what they are calling a left groin strain.
Ingram underwent an MRI on Sunday, and while initial reports indicated a potential hip flexor, the groin ailment is the official diagnosis.

Ingram missed the team's win over San Antonio on Saturday and, given the stated timetable, he will miss at least three additional games, with the Lakers facing the Blazers, Magic and Nuggets over the next week. In addition, the team indicated that Ingram "will be re-evaluated in approximately one week," providing flexibility for a potentially lengthened absence.
With the Lakers displaying no draft incentive to lose games, the team is showing encouraging signs of growth and, alongside Lonzo Ball, Kyle Kuzma and others, Ingram is at the center of it all. On the bright side, this does not appear to be a long-term ailment, but in the same breath, it arrives at an unfortunate time for the franchise as the future begins to take shape.