A year ago at this time, Brandon Ingram was one of the projected top-2 draft picks along with Ben Simmons out of LSU. The Duke forward knew he would go early and when the NBA Draft Lottery came around, he could start narrowing down the list of teams he would likely end up on.
Simmons went first to the Sixers and Ingram went second to the Lakers, where he struggled at first in finding his role within the Lakers offense. Ingram cracked double-digits in scoring just eight times before January in 36 games. He had seven such games in the month of January, but consistency remained an issue until late in February when things clicked and he rattled off 18 double-digit scoring games in his last 21 as his confidence and comfort level grew.
Ingram's job this offseason is to manage to build on that late season success and continue to improve his body and his game so he can be a key piece for the Lakers in 2017-18. On Monday, a day prior to the NBA Draft Lottery when the Lakers will learn their fate of either keeping or losing their draft pick, Ingram spoke with DIME Magazine about his first season in the NBA, how advice from Magic Johnson helped turn his season around, his knee's health, what it's like watching the lottery as a prospect, playing for Luke Walton, and understanding fans wanting the team to lose late in the season.
What was your first season in the NBA like compared to what you expected coming into the league?
I'd say it was kind of like a whirlwind for me. From 32 games to 82 games, some nights playing well, earlier in the season, some nights being lost as ever. Just ended up figuring it out, so overall it was definitely a learning curve.


Starting in March you really seemed to find a really good rhythm as you got more minutes and saw your production go up. What was it that clicked for you around then and help you find that spot where you didn't feel as lost on the court and could produce?
I think just a different mentality coming in. Trying to help the team win and doing everything I can to be a hard-working player on the floor, getting better each and every day. I knew we weren't playing for anything, being pretty much out of the playoffs, but I just wanted to prove myself to the coaches or whoever around the organization that I was drafted that high for a reason.
When Magic Johnson took over he was at practices and around the facility a lot. How much conversation have you had with him and has he offered any advice on things about that mentality you speak of or other things to improve on as a player?
As soon as he came on board I feel like he helped me out a lot. I think it was maybe a game up in Detroit, no it was the Oklahoma City Thunder, and he came to practice and gave me some pointers on how to finish above the rim and different pointers and from that game on, I think I just was finishing well around the rim. And he showed me different things, like how to come off pick-and-rolls and being effective around the rim.

You talk about the progress you had at the end of the year, it was briefly interrupted by some issues with knee tendonitis. How is your knee doing and with tendonitis being a tricky injury what are you able to do to manage that?
My knee is well, first of all. It's feeling great right now. I got it a little time off, just been resting it a bit. Today was the first day back, so it felt pretty good out on the floor. But I think for me there's the DonJoy Performance stuff that helped me out a lot, the TriZone knee sleeve to be specific. They gave me that and ever since then when I rehab and anytime I get out on the floor I didn't feel it at all playing basketball and I've just used that ever since.
What are the things this offseason that you see as being your focal point to keep building and improving going into next season?
I think, of course, for me the big thing is getting stronger. Not putting on a lot of weight, but just getting stronger to where I can play even better and play at a high level every single night. And repetition, I love what I've been doing well, and, for me, being comfortable on the floor at all times. Free throw line, whether it's shooting pull-ups, mid-range. Every aspect on the floor I just want to attack.
The draft lottery is coming up tomorrow night. Last year, being one of the projected top guys, how closely did you watch the lottery and start looking at where you might end up and what's it like watching the lottery as a soon-to-be top pick?
Actually, when I watched it I watched really for the number one and number two picks cause I knew I was going there. For me it was two really solid teams with young players in a rebuilding stage. So, for me, I was just excited to get drafted. It was a really fun process for me just leading up to the draft lottery and the draft process. So, I think my family was excited, I was excited just to see the possibilities.

Obviously you'll be excited getting drafted into the NBA, but can you help but have a few teams you're rooting for to land in those spots where you're expected to be drafted?
Really, in the beginning of the draft process, all I thought about was trying to be the number one draft pick. After awhile I started to get the feel for different teams and of course we had different interviews with teams so I can say that I had a few relationships with some coaches.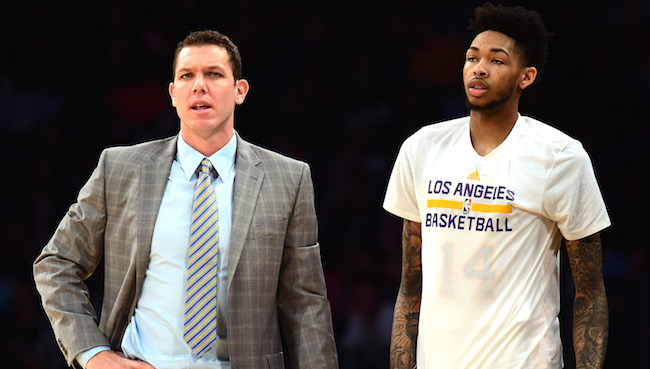 Your relationship with Luke Walton, what's that been like, and is having a young coach with that energy a nice fit for a team that you guys have with such a young core?
It's a really great fit for the way we want to play and the way we want to run our system on offensive and defensive ends. I think with Coach Luke, he's a players coach. He builds great relationships with his players and all the people in the front office, every trainer around the facility. I think he's just, he coaches really well and with the relationships he makes he has good dialogue with everyone around him.
Towards the end of the season when you started to go on that little winning streak, did you guys just have to tune out that fans at that point had turned to — you mentioned earlier you weren't playing for playoff position — thinking about the draft pick. Was it a bit strange having a fanbase thinking, 'Hey, maybe it's better if the team loses,' and inside the locker room having to block that out?
Well, we understand. This happens for teams in losing positions. It happens every year. For us, it was important to go out and play our hardest every single night. That's something we get paid to do and we can't lose just because of something in the future. We have to live in the present and do what we do best. We just went out and did what we're paid to do.