TORONTO — It was as good a place as any for reflection.
Sitting in a makeshift visitors' locker room, Brandon Jennings' latest trip to the Air Canada Centre is drastically different from his earlier ones. Now dressed in a Wisconsin Herd jersey ahead of a Sunday afternoon tip-off against the G League's Raptors 905, Jennings will be up against a squad coached by Jerry Stackhouse, his vet from his rookie year and a reminder of the lessons once learned.
Jennings is about to step on the same floor where he dropped 25 as a sophomore in the league, put up 34 in the midst of the best stretch of his career with Detroit in 2015, and finally felt like he was back to form following a ruptured Achilles. When he does, it will be with a different intent.
An eight-year NBA veteran at the time, Jennings is fighting for another chance. He has no doubt he can give a G League team buckets. He's hoping he can parlay an abbreviated G League tour into an NBA opportunity, proving to the league that he can still do so at the highest level in the world, too.
To get back to this point, though, Jennings had to prove it to himself. He had to embrace his trail-blazing role as The World Hooper.
The decision to go to China was Jennings' and Jennings' alone. This is something he wants to make known. When he signed with the Shanxi Brave Dragons of the Chinese Basketball Association in July, it was not out of desperation or market that didn't exist. There was plenty of time to secure a deal, or at least a camp invite, and fight his way back to NBA relevancy that way.
But Jennings had spent the last three seasons in part-time journeymen roles that didn't suit a game that was still coming back to him and certainly didn't suit the player he'd known himself to be his entire career. In 2016-17, he at least stayed healthy, but he'd played on five teams over three seasons, posted a 49.8 true-shooting percentage, been traded once, and waived another time. I
t was a series of seasons that left Jennings — whose score-first, read-the-defense later approach demands the utmost of confidence — trying to figure out how to get back to what and who he was.
"I just knew, because I wasn't myself when I was in New York and with the Wizards," Jennings says. "I wasn't that scoring guard that everybody remembered. I haven't been that scoring guard since my injury, of course, in Detroit. You know, for me to just find my confidence back, and my shot. I was able to work on my game a lot, no distractions."
China afforded as many opportunities as it did challenges. Jennings made the trip alone. No trainers, no friends, no family. The separation from his three sons was the hardest part, but in them he found motivation, wanting to get back to where they could see him play in the NBA again. And in that isolation was the opportunity to dive back in completely. He jokes he was the only black person in Taiyuan, a city of more than three million.
As much as the touches — he had a typical NBA-player-in-China usage rate of over 35 percent, averaging 27.9 points, 6.8 assists, and 2.7 steals — it was the singular focus on basketball that allowed Jennings to begin finding his way back.
"It was a great time for me," he says. "All I did was just play basketball every day. In China, of course, they give you the ball a lot. But I think it wasn't even more about just getting the ball, it was just about just playing, just having fun again, and just enjoying the game again. I feel like I lost the enjoyment when I was in New York and the Wizards, just because I just didn't feel like myself. I just felt like I was forcing myself to play."
It was a time for reflection, and Jennings gained even more off the court than he did on it.
"It was a great experience for me overall, just for me, my mental," Jennings continues. "I was able to spend four months there by myself. So I was able to think about all type of things I've done wrong in life, and the positive things in my career. Life just slowed down for me. It was actually something that I needed as a person, and I'm happy with my decision."
On Jan. 13, Jennings played his last CBA game, entering the G League player pool and landing with the Herd. His excursion was a success, as his confidence and sense of self on the court were both back. The experience, Jennings figures, was made easier by the fact that he'd already spent a year overseas.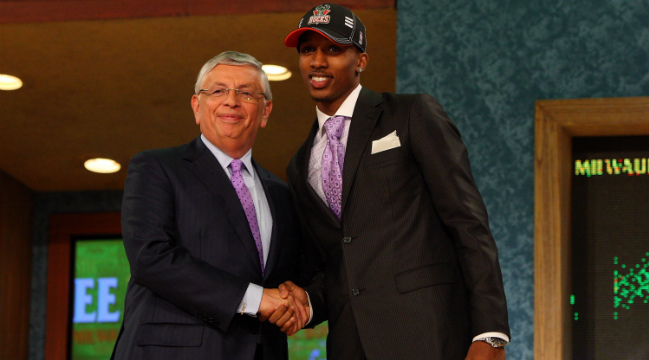 Once the No. 1 high school basketball prospect in his class, Jennings famously eschewed a season at Arizona to play for Lottomatica Roma of the Italian Serie A league. Originally committed to Arizona to play for Lute Olsen's "Point Guard U" program, Jennings balked at even doing a one-and-done year once Olsen retired.
That he'd have the chance to make money for a season before qualifying for the NBA's age minimum didn't hurt, either, something that's become a popular topic of conversation of late. More and more, the temperature of the NBA seems to be that the current system is broken. Jennings highlighted that nearly a decade ago by blazing a trail very few have followed since, and one that until the recent media storm around the NCAA, few had asked him about.
"The thing is, you know, I don't really get a lot of requests about it," Jennings says. "Guys don't really ask me about going over there, especially now with what's going on with the NCAA. If any young kids, any young guys that are top prospects that are thinking about it, you know, I'm always willing. My door's always open to tell guys about Europe. I think they should take the rule out and kids should be able to do whatever they want out of high school. Just let the kids make their decision again."
That few have asked him about a European season as an option doesn't surprise him. He figures it probably hurt his stock a bit, as he only averaged 17 minutes over 27 games before being selected 10th overall by the Milwaukee Bucks in the 2009 NBA Draft. It helped prepare him for the pro game, though, and Jennings made All-Rookie First Team in 2009-10. He recalls people taking his decision the wrong way, a pretentious show of being better than everybody rather than just doing what was right for him in the end.
"You've gotta remember, when I first did it, I took a lot of heat for it," he says. "So, you know, I was getting a lot of backlash for a minute. But the experience was the thing that helped me."
It's easy to see a similar decision being made in 2018 getting met with a lot more nuanced a response. In retrospect, Jennings' decision looks a bit ahead of its time.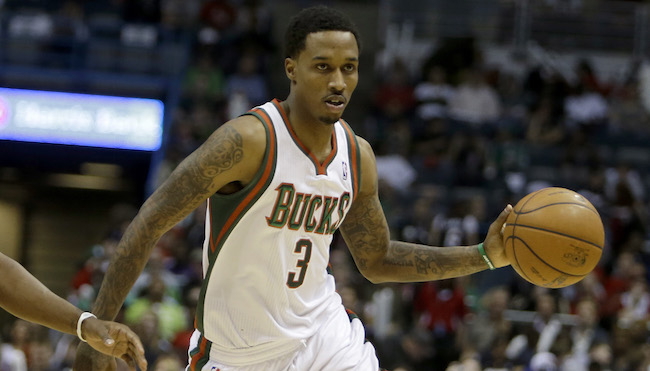 Jennings was used to criticism, then, but that doesn't make it easier. Even with the caveat of a very serious injury in his recent past, fans were relentless in writing Jennings off. It's easy to tell someone to just avoid those criticisms or let them fly off, it's another altogether when it's your own postmortem being shouted at age 28.
"I think the toughest thing for me was people were calling me trash," Jennings says. "Everybody was like 'oh he's trash now, this and that, that's why he's out the league.' But people never really understood what happened. An Achilles injury, that's a career-ending injury. You know what I'm saying? I think that also made me more hungry, the fact that people were like, 'You can't, you won't ever be able to get back to who you were.' And it's like, naw, I can still score. I was just going through more of a mental thing, first time coming off the bench, different roles, and things like that. Everything was just different. So that's why I left and had to just clear my head for a minute, and come back."
On Sunday, Jennings' moves paid off. After half a season in China and seven games filling it up in the G League — 21.4 points and 7.4 assists, albeit on 49.8 percent true shooting — Jennings was back in the NBA. In a full-circle moment, the same Bucks who drafted him signed him to a 10-day contract. On Monday, he flirted with a triple-double, scoring 16 points with eight rebounds and 12 assists in just 24 minutes.
Jennings is not the first veteran to make it back to the NBA via the G League, but the list is still relatively short. So, too, is the list of players to have made it back to their previous level of play following an Achilles rupture, something Jennings also blazed a bit of a trail with in being an early adopter of the G League as a rehab route.
He's one of a handful to rediscover their game — skill-wise or in passion — in China, and remains a rare example of the alternative to the ineffectual one-and-done system. Jennings' career has been defined by the unconventional and circuitous, challenges that are a part of his identity now.
"I call myself The World Hooper now," he says. "I've played in Italy, I've played in Europe, I played in China, played in The League, playing in the G League. I'm just The World Hooper."