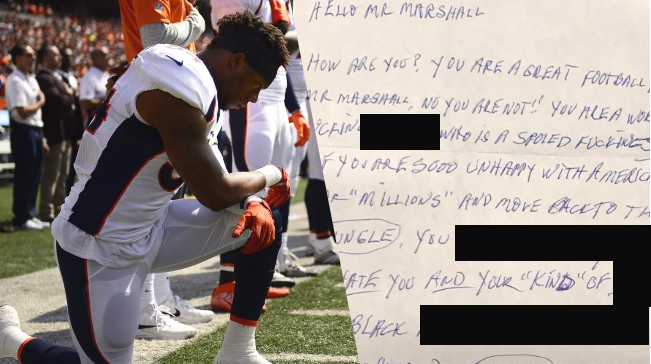 Denver Broncos linebacker Brandon Marshall got a letter at work on Friday. It wasn't from a fan.
Marshall posted to Instagram a letter he received at Broncos team headquarters filled with expletives, racial slurs, and threats. The letter is presumably in response to his joining Colin Kaepernick in kneeling during the National Anthem earlier this season. The move was a silent protest in response to police brutality against people of color.
Marshall didn't censor the language he read and neither will we. The letter said that "if you're so unhappy with America, turn in your 'millions' and move back to the jungle." It also threatened Marshall personally, saying "we are 'channeling' a devastating hard hit for you!!"
It would be easy to poke fun at the scare quotes and rantings of a crazy person here, but the danger is real. This is a threat no person should endure just for kneeling on the ground quietly. Marshall commented on the all-caps, handwritten letter saying it's important to know the kind of language and abuse he receives in response to just being a person of color in America today.
"The hatred by some against people of color is one of the reasons we are where we're at in the world today," Marshall wrote on Instagram. "And they wonder why we feel the way we do and take the stances that we take. I received this letter at work."
It's the second incident in a week where an NFL player beared the brunt of a racist tirade. Earlier this week Nikita Whitlock reported a break-in at his New Jersey home where someone scrawled the letters "KKK" and "Go back to Africa" in his basement apartment. It was the second incident in Whitlock's home within the last six months.