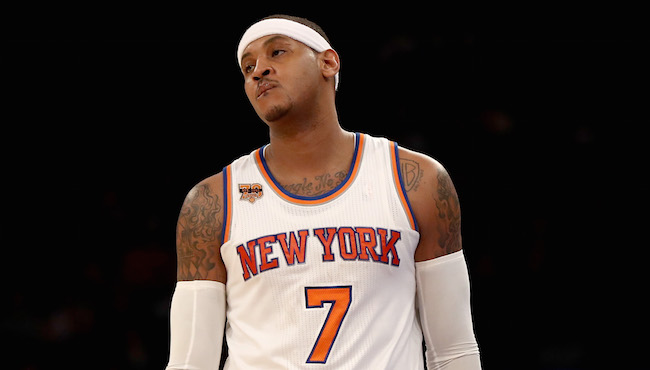 Phil Jackson made waves on Friday when he very bluntly remarked that Carmelo Anthony would be better off somewhere other than New York. This was the end point in a season-long psychological war that has seen Jackson not-so-subtly try to push Anthony into waiving his no-trade clause, but on Friday he'd had enough of the games and flat out said Anthony needed to go elsewhere.
This came after reports that Anthony would be open to waiving that no-trade clause should the Knicks assert that they wanted to start rebuilding around Kristaps Porzingis, as Anthony is desperate to be on a winner. That appears to be the case, but Anthony probably didn't expect Jackson to be so explicit with the media about desires to move him this summer. So, on Friday afternoon after finding out that Phil had once again taken a public stance against him, Anthony responded with a very simple Instagram post.

"REALLY," with that picture says it all. Anthony's fed up with the situation in New York, and who can blame him. Jackson has treated him poorly, and some have postured that will hurt the Knicks in the long run as well as the short-term as free agents will be wary of working for Jackson if this is how he handles situations. If the Knicks and Anthony don't finally part ways this summer, next season will be something else and the media circus in New York will only grow stronger. Jackson is back for two more years and Anthony has two more years left on his deal, so something has to give.
Carmelo's reaction seems to indicate that he might just be ready to cut ties, however, with his no-trade clause, he can force the Knicks into trading him where he wants to go, which could hamper the haul the Knicks could get for him. At this point, though, they just need to take anything they can get and end this horribly dysfunctional relationship. As for how other Knicks feel about this, Porzingis and Willy Hernangomez seem to be on Carmelo's side here — or at least understand it — as they both smashed that like button on his Instagram post.
There's just never a dull moment for the Knicks.