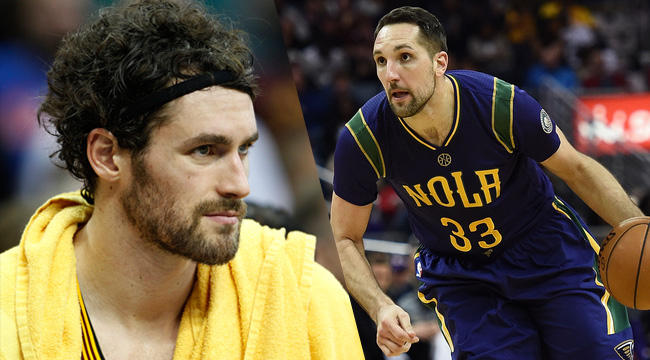 A pair of tweets from Frank Isola of the New York Daily News and Marc J. Spears of Yahoo's The Vertical reveal that the Cavs are "strongly" looking to acquire Ryan Anderson from the New Orleans Pelicans. That also means Kevin Love could still be moved, as well, since they share the same position.
Anderson is on an expiring deal, and he'll likely command between $16-18 million this offseason, something the Pelicans would rather not shell out for a big man who can't defend that well.
Isola is also reporting the Cavs might be dealing the floppy-haired Anderson Varejao.
Varejao hasn't seen much time this season. Even with Timofey Mozgov regressing from his peak performance in last season's playoffs, Tristan Thompson is starting and Moz is handling the majority of backup minutes. Andy is only averaging 10 minutes per contest — a career-low — in the 31 games of mop-up duty he's played so far this season. Varejao's also, as Isola is quick to note, a good buddy of LeBron's, which means nothing, but people will read between the lines and say LeBron prevented it if Varejao isn't moved. See how that works?
The Love portion of Isola's tweet is the one everyone is wondering about. Love had been mentioned in a possible Carmelo Anthony three-teamer Isola reported over the weekend. So this is the second time in less than a week the New York Daily News scribe has mentioned the Cavs trying to deal the All-Star power forward.
Whether there's any truth to the rumor remains to be seen.
Spears did confirm the Cavs are looking hard at 27-year-old Ryan Anderson, who is exactly the dead-eye shooter the Cavs would want to replicate Love's position in the half court. Love is a more well-rounded offensive player than Anderson will ever be and he's locked up long-term on a pretty cheap maximum allowable five-year deal (the fifth year is a player option) — at least in accordance with where the cap as television rights-related money begins in the summer of 2017.
But the former Timberwolves star hasn't been asked to do much outside of acting as a shooter along the arc or a release valve when Kyrie Irving and LeBron James dribble drives don't lead to easy looks at the rim.
Anderson would be a cheaper option, even if they re-signed him this summer.