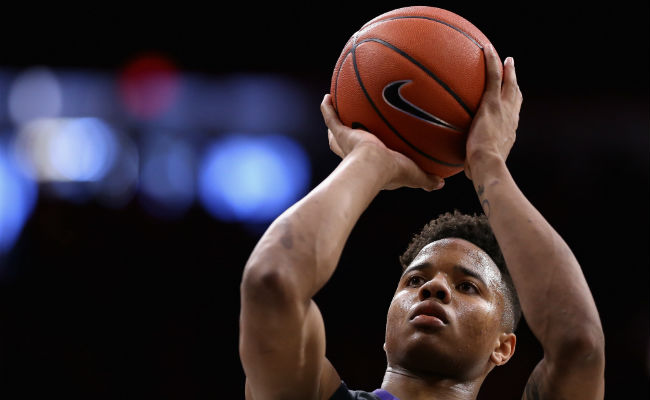 The Boston Celtics want to trade the top pick in the NBA Draft, and the Philadelphia 76ers want it. The only thing standing between the two teams is what's going on in Los Angeles.
According to reports, Boston and Philadelphia are all but set to make a deal that would give the Sixers the top pick in Thursday's Draft and give them Markelle Fultz in the process, but lingering concerns about who the Lakers take second overall have Boston thinking it's best to wait until Draft day to make the trade.
Reports swirled on Friday that Boston was ready to deal the top pick, but with Los Angeles exploring options other than Lonzo Ball at No. 2, the Celtics have apparently hit the pause button on trade talks.
The deal is said to involve Philadelphia's third overall pick on Thursday along with some other incentives to move down two spots. Some speculate Boston will try to acquire enough assets to trade to Chicago and get Jimmy Butler. But Keith Pompey says Boston isn't having cold feet about a Butler trade, but rather is worried about what the Lakers are doing on Thursday.
Simply put: the Celtics have no idea what the Lakers are doing with the second pick, and if the don't want Fultz, they want Jackson. Because while it once seemed inevitable that Lonzo Ball would stay home and play for the Lakers, the team reportedly isn't sure what it should do anymore. They brought in De'Aaron Fox and Jackson for a workout earlier in the week, but Ball has only worked out for the Lakers.

LA not taking Ball at this point, even with the rumblings, would be a pretty surprising result on Thursday night, but it could happen. And Fultz is clearly the target for Philadelphia if the trade does happen on draft night. Sources told Philadelphia Daily News reporter Bob Cooney that Fultz would work out for the Sixers on Saturday.
That visit may be the final piece of the puzzle for the Sixers.
Woj also had move information about the potential cost of the trade for the Sixers.
The movement on all this has been pretty interesting. Fultz initially turned the Sixers down for a private workout, only visiting with Boston in the weeks leading up to the Draft. Now that it looks like Boston is moving the pick, though, he's finally going to visit Eastern Pennsylvania. Probably a good call, because if the Lakers decide they want Ball after all, that's almost certainly where the Washington standout is headed. It just might take a few more days until it's all official.