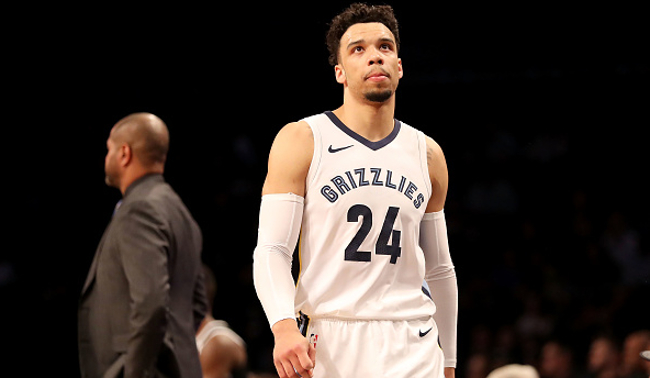 Over the weekend, one of the most bizarre instances of trade miscommunication almost tanked a deal sending Trevor Ariza to the Wizards.
The Suns, Wizards, and Grizzlies thought they had a three-team deal agreed to, with Ariza going to D.C., Dillon Brooks, Austin Rivers, and Wayne Selden going to Phoenix, and Kelly Oubre Jr. heading to Memphis. The Grizzlies, however, were insistent that MarShon Brooks, not Dillon, was the player they were sending to the Suns and the deal fell apart, with Phoenix and Washington picking up the pieces and making a deal straight up.
It was extremely strange, because you would think teams would be a bit more certain about exactly which players would be heading where, but then again, it's not all that common for rosters to have two players with the same last name. Still, that trade talk confusion apparently isn't all that unique, as Celtics owner Wyc Grousbeck joined the NBC Sports Boston broadcast on Wednesday and said he's run into that issue before, hilariously enough, with the Grizzlies.

Grousbeck refused to offer up any details, but a quick search through the Memphis rosters since Wyc bought the Celtics in 2002 finds that Memphis has had two players with the same last name in seven different seasons. So, we can narrow it down to those years that this could've been an issue, and try to speculate what possible trades could've been in the works before falling apart over name confusion.
2005-06 and 2006-07: Dahntay and Eddie Jones
The Jones boys played two seasons together in Memphis before Eddie Jones was traded to the Miami Heat during the 06-07 season. It's possible that the Celtics were in play at that deadline, but thought they were going to acquire Dahntay Jones in a deal, not Eddie.
2007-08: Kwame and Andre Brown
The Browns spent one season in the same frontcourt in Memphis, although neither played much for the Grizzlies this season. I can't imagine the would-be NBA champs would've been looking to add either of these players during the season, but I guess it's possible. They did pick up P.J. Brown as a free agent after the deadline, so maybe they were hoping to land one of the Browns as a reserve big.

2014-15 and 2015-16: Jeff and JaMychal Green
My first thought was that it might've been during the Jeff Green trade talks that something fishy happened, but the Grizzlies didn't have two players with the same name until after they'd dealt Taurean Prince to Boston in a three-team deal to land Green from the Celtics. I can't imagine Boston was in the market to bring Jeff back the next season, but maybe they were looking to land JaMychal.
2017-18 and 2018-19: Dillon and MarShon Brooks
The funniest possibility would be a recent trade talk involving the Brooks boys also ending with a frustrated Boston team calling off a deal. There were rumors a year ago that Boston was sniffing around Memphis in hopes of landing Tyreke Evans, and maybe they thought they were getting Dillon Brooks and Memphis was trying to offer MarShon as part of a package. It certainly wouldn't be the last time those hijinks were to occur if that were the case.