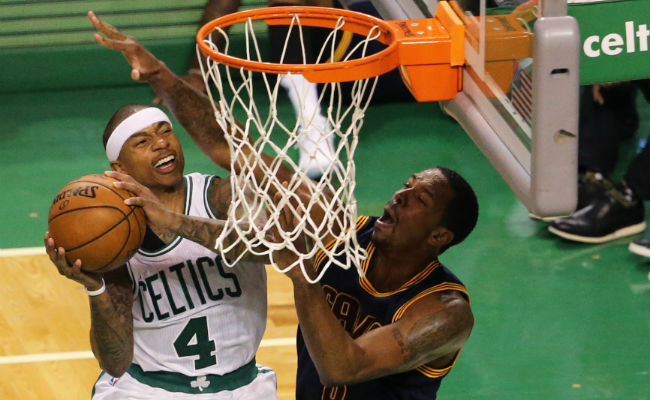 All eyes were on Isaiah Thomas in Cleveland on Thursday as the former Boston Celtics point guard made is first appearance as a Cavalier. Thomas was introduced by the team on Thursday and had plenty to say, though he didn't take any questions about the hip injury the entire NBA world is talking about.
Many think the true winner of the Cavs/Celtics trade won't be known for some time, but Thomas' hip is a huge factor in this. Still, he had plenty of nice things to say about coming to Cleveland, including the fact that he gets to play with LeBron James.
"I'm excited to play with the best player in the world," Thomas said on Thursday, a clear nod to James. Though that wasn't as clear to Cavs teammate Channing Frye, who took to Instagram to poke fun at his newest teammate.
Frye commented on a SportsCenter Instagram that included Thomas' quote, pretending that the point guard was talking about the Cavs veteran instead of James.
"I'm excited to play with you too fam!" Frye commented on the post. It's a great sign that the Cavs are ready to welcome Thomas to the team regardless of his health. But if you believe the team's former GM, they're already better than they were last season even if Thomas can't play right away.