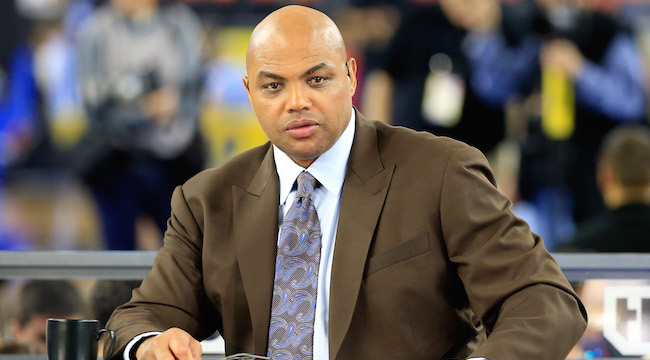 The day after learning that his sister had been killed in a tragic car crash, Isaiah Thomas led the Boston Celtics onto the floor and received a massive ovation from the crowd for the opener of their first round series with the Bulls. Before the game, coach Brad Stevens said he was unsure how much Thomas would play, remarking that Thomas would dictate how many minutes he would play.
Thomas was understandably emotional during the Celtics shootaround during the day, and TNT's cameras had a devastating shot of Thomas crying while sitting courtside. All of his emotions came out as Avery Bradley and others consoled him. As TNT rolled that footage, Charles Barkley proceeded to stick his foot in his mouth talking about how "uncomfortable" he was for Thomas and how he felt it was a bad look that he was crying on the court prior to the game.

"I'm not feeling comfortable with him sitting on the sideline crying like that," Barkley said. "That makes me uncomfortable because that tells me he's not in shape to play. I don't know how this night is going to turn out. But to be sitting on the sideline a few minutes before the game, crying, that makes me uncomfortable for him. That's just not a good look, in my personal opinion."
Barkley isn't always the most elegant with his word choice, so I don't think he meant for it to come out as poorly as it did. I'm hoping by saying he was "uncomfortable" for Thomas, he meant he felt bad seeing him battle those emotions on the court, but it's really hard to figure out how him saying it's "not a good look" comes off as anything other than crass. There's also the issue that he seemed to not understand that the clip was from shootaround and not right before the game in warmups.

In trying to elaborate, he said he had no idea how it would go for Thomas on the night but was concerned that he wouldn't be focused on the game, but that is of secondary importance to what Thomas was going through emotionally. The Celtics were clearly willing to let Thomas play as much or as little as he wanted, letting him work through his pain in whatever way felt best for him. While understanding that it's the job of an analyst to look at the game and how all factors can affect it on the court, there was a much better way to discuss Thomas' emotions.
Barkley isn't afraid to cause controversy and stir the pot with what he says, but I think even he will wish he had these 30 seconds back to be at least a little bit more understanding of Thomas' emotions in this extremely difficult moment.
(Via For The Win)