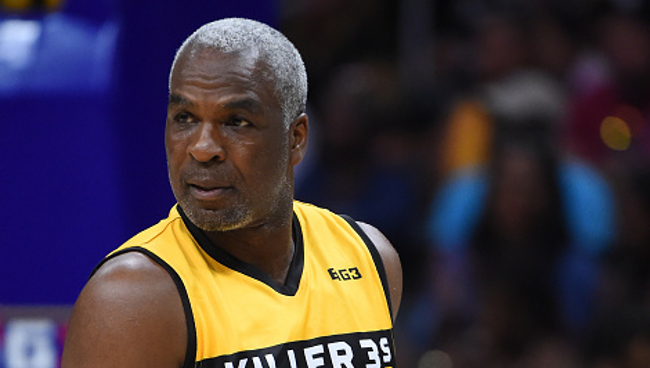 The BIG3 event in Los Angeles this weekend had novelty of all variety and description as LaVar Ball and league founder Ice Cube were set to square off in a four-point shooting contest, while 53-year-old Charles Oakley made his highly-anticipated on-court debut. For fans of '90s bare-knuckle basketball, Oak is one of the more imposing figures of that era, the type of prototypical tough guy and enforcer that has quietly gone extinct in the modern NBA.
So when fans filtered into Staples Center on Sunday, they were clearly hoping to see some classic hard-nosed hoops, and they apparently were not disappointed as the Killer 3s game versus Trilogy got all sorts of chippy between Oak and James White.
Sadly, there is no video of the incident, but here's what Kenyon Martin — one of White's teammates on the undefeated Triology squad — had to say about it after the game.
"We're gonna get everybody's best shot, emotionally and physically," Martin said. "Everybody gonna wanna come out, they wanna beat us. And Oak, it's Oak being his first game out there, full of energy; they were looking for a spark.
"It's all fun and games," Martin continued. "We're all out here competing. It ain't gonna go over the top. Well, I don't think it is. We out here having fun; that's what it's about. It's about giving the fans a show, and I think we have for eight weeks."
It shouldn't surprise anyone that Oak wasted no time before mixing it up with his opponents. Thankfully, cooler heads eventually prevailed and fans went home happy after recapturing some of the glory days of '90s basketball.