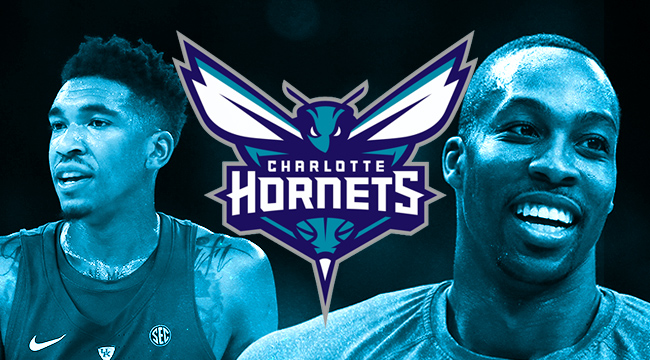 Last week a 36-win team traded for a 32-year old Dwight Howard and drafted Malik Monk with the 11th pick in the draft. In the grand scheme of the NBA, it may not matter, but for the basketball community of Charlotte, NC, it gave fans a reason to be bold and do something they've done little of since the NBA came back in 2004: hope.
When I think of the average Hornets season ticketholder, I think of my father, a man who gave up the dream of seeing his childhood team of the New York Knicks win a championship in 2004 and became a full-time Charlotte Bobcats fan. He initially bought season tickets when (the then) Time Warner Cable Arena was built in 2005 and has been a season ticket holder up until last February when he finally lost faith in the team's direction.
To him, it wasn't worth going down there anymore to see a team on the proverbial NBA treadmill. They weren't bad enough to get a great lottery pick, and were never good enough to win a playoff series. One of his major habits, calling me after games to discuss what the coach or some of his favorite players did wrong, had stopped. He'd just had enough of the team disappointing him on a nightly basis to the point where he'd just quit watching, and ultimately gave away (sometimes unsuccessfully) the tickets to folks who wanted to see the games. He'd even quit the habit of lurking on message boards and websites to see if the Hornets would make some moves to improve the team.


"Big Son (his nickname for me), I'm just tired of wasting money on this team," he said to me a few months ago.
Enter June 20th and the trade in which the Hornets traded away Miles Plumlee, Marco Bellinelli, and the 41st pick and received Dwight Howard and the 31st pick in the draft. Upon initial reporting, most Hornets fans (including my father) were stunned that the Hornets managed to trade away the Plumlee contract. Plumlee played 13 games as a Charlotte Hornet, averaged 2.4 ppg and was getting paid almost six times (in millions) that to rot on the bench.
Whether fairly or unfairly, Plumlee was the symbol of the 2016-2017 Charlotte Hornets, a last gasp at trying to reach the playoffs by any means necessary and praying they'd catch lightning in a bottle.
That's what makes the Dwight Howard trade and the subsequent drafting of Malik Monk so enticing for NBA fans in Charlotte. In an era where teams are content to tank for picks and gather assets while collecting revenue from the teams paying the luxury tax, the Hornets are making an attempt to win as many games as possible.
It's a shot in the arm for a team whose relationship with the city is too rocky to properly bottom out, yet lacks the culture and credibility to aim and get a star player to come in free agency (Al Jefferson signing to the Hornets in 2013 is still their highest profile signing in franchise history).


"I can accept failure – everyone fails at something – but I can't accept not trying," Hornets Owner Michael Jordan once famously said.
With the Dwight Howard trade, the Hornets are making an effort to eclipse 50 wins for the first time in 20 years. They're in the business of trying to compete. And with Toronto potentially losing Kyle Lowry, Jimmy Butler now in Minnesota, and Paul George dreaming of life as a Laker, who can blame them. A Top 4 seed in the East and a step towards NBA relevancy beyond Kemba Walker and Head Coach Steve Clifford is more than attainable next season.
But the biggest sign this season is different for me: my father decided to re-up his tickets for this season. The Hornets managed to rekindle the hope he has in this franchise going forward. And he's back on those message boards, waiting for the next Trade Machine pipe dream to turn into a pages-long thread.