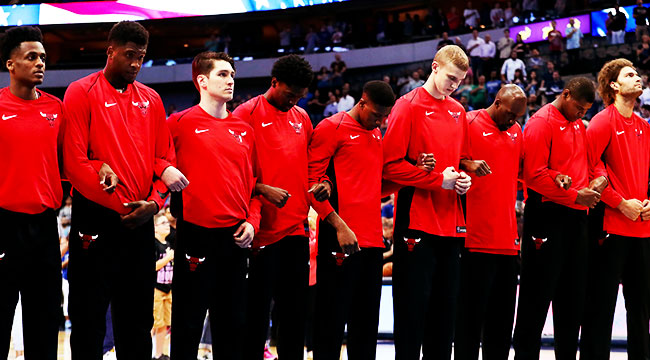 Comedian and New Orleans comedy theater founder Chris Trew is a New Orleans Pelicans fan who has a single season ticket directly behind the visitors' bench inside New Orleans' Smoothie King Center, where he intently listens to and interacts with the opposing team's players and coaches. He will be documenting his experiences here for us in a regular column called, Behind the Bench. You can follow his in-game interactions live on Twitter at @ChrisTrew. The Pelicans' opponent in this column: the Chicago Bulls, who visited New Orleans on Tuesday, October 3rd.
This game was especially exciting for me, because I've never attended a preseason game with these seats. How seriously do the players treat the first preseason game of the year? Are they workshopping new celebration rituals? If you're a brand-new player, how are you supposed to act? The answer to all of the above is that in my estimation, the Bulls were way too hype for their win in New Orleans. But I'm not really hating on them too hard. It's going to be a long season in Chicago, and it started at the Smoothie King Center.
Prior to the game I was filming a new web series for Pelicans.com where I interview a season ticket holder, called Section 504 (which is the New Orleans area code). The first episode is a doozy, as I interviewed the couple with the best seats in the house, on the floor, half court, with nothing between them and the action.
While the camera was rolling, former two-time New Orleans Pelican and brand new Bull Quincy Pondexter came over to say hello to the couple. They exchanged the basics: how are you, we miss you, good luck, how's your family. But then before Q-Pon returned to warmups he asked the couple if they would become Bulls fans while he was here in town. "We'll need you this season," he said, while kind of laughing. Emphasis on "kind of."

For his career, Kevin Durant has averaged about 27 points while playing about 37 minutes a game. Kriss Dunn, imported from Minnesota this Summer in that pesky Jimmy Butler trade that irritated every fringe playoff team in the west, has averaged about 4 points while playing about 17 minutes. These players aren't really comparable in any way, except that the entire Bulls bench seems hell-bent on calling Kriss Dunn "KD" and since there's already a KD in the league and he's really, really good, they shouldn't be allowed to do this.
The same applies for anyone with the initials C and P who wears jersey number 3. Hell, someone with those initials and any jersey number shouldn't get to be called "CP [jersey number]," because Chris Paul is, again, really, really good. Motion for super-duper stars owning their own nickname and all nearby real estate. Further motion for the Bulls to find a new nickname for Kriss Dunn. Third motion for me to move on.
During the game, a Bulls assistant appeared to be keeping track of the number of times Jerian Grant was carrying the ball. He was never whistled for the offense, so it didn't really count, but someone was being paid to keep track. They might have more important things to worry about this season, but I've still seen assistant coaches do weirder things behind the bench. Like that guy who just carries candy around for Memphis. For the record, I love me some odd-job-having assistant coaches.
In terms of gameplay, the most vocal Bull was Justin Holiday. In terms of cheerleading, it was Quincy Pondexter. Justin Holiday also drank his Gatorade wrong at one point, and it dribbled down the side of his jersey then he threw down the bottle down out of frustration (or disappointment? I forgive him, I just hope he forgives himself).
Quincy was laughing and joking a lot for someone who just got to Chicago about a month ago. He's an extremely joyful dude, but I couldn't tell how much that joy was seeping into his teammates. Also, Cristiano Felício doesn't like orange Gatorade, he thinks it's nasty, and I don't blame him.
The most charming moment behind the bench was when rookie Antonio Blakeney was called into the game. He wrapped a huge smile around his head and said "oh shiiiit." He played college ball up the road in Baton Rouge and was checking into his first real (preseason, but still) game. He probably had friends in the crowd and they were probably saying "oh shiiiit" as well.
The biggest difference between preseason and regular season player interactions I noticed was the frequency with which players came over to chat with coaches. I know it's not unusual for this to happen, but during the regular season it's more of a quick hey what's up respect move. In this game Rajon Rondo and E-Twaun Moore (both former Chicago players) had full-on conversations with Bulls coaches during free throws, timeouts, and inbounds plays. Rondo is happy, Moore added muscle, everyone wishes everyone else the best of luck.
The Pelicans completely waxed the Bulls in the first half because hey, maybe Rajon Rondo was right. But New Orleans was outplayed after halftime and goddamn were the Bulls loving it. Whipping towels and waving arms like it was a playoff win. Like they're in the middle of a huge regular season win streak. Or maybe just like they are extremely happy for the games to start counting. You know; just like the rest of us.