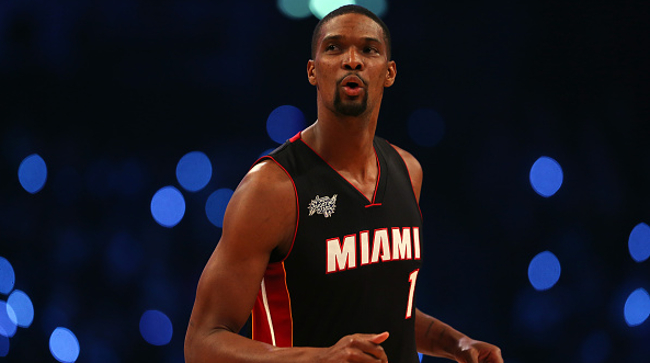 Former All-Star and two-time champion Chris Bosh's NBA career has been in limbo the past few seasons as he's battled multiple, life-threatening blood clots. Throughout this saga, Bosh and the Heat have had protracted disagreements about whether he's healthy enough to play, as various team and league-affiliated medical professionals have strongly cautioned against it.
Last month, after the league and the players' union conducted yet another medical review, Bosh received the devastating news that he'll likely never play again. It was only a matter of time before the Heat would part ways with Bosh, and Tuesday, the team made it official. Here's Pat Riley's official statement, via NBA.com:
"Chris changed his life and basketball career when he came to Miami," said HEAT President Pat Riley. "And he changed our lives for the better, in a way we never would have imagined, when he joined the Miami HEAT. We will forever be indebted to CB for how he changed this team and led us to four trips to the NBA Finals and two NBA Championships. He is, without a doubt, one of the greatest players in the history of the franchise. The number "1" will never be worn by another player and we can't wait to someday hang his jersey in the rafters. Today, we are both moving on but we wish Chris, Adrienne and their family nothing but the best. They will forever be part of the Miami HEAT family."
It's a classy gesture on behalf of Riley and the organization to retire his jersey, especially after the lengthy dispute over his return to action had turned acrimonious at times. Yet the legacy Bosh leaves behind in Miami is impossible to ignore.
Bosh, who was an All-Star and franchise cornerstone in Toronto, not only took a pay-cut to help Miami form the Big 3 with Dwyane Wade and LeBron James, but he set his ego aside and readily accepted a reduced role as a third option. A couple of his former teammates quickly took to Twitter to show their appreciation and offer praise for how the front office is handling the situation.
The move also clears cap space for a team that's been rumored to be in the running to land Gordon Hayward in free agency and is looking to add overall depth to their roster. Still, the Heat will have to pay Bosh the remainder of his contract, which reportedly will be spaced out over the next five years.
The Heat had an incredible turnaround last year after a rocky start to the season, and with so much talent headed West, are eyeing a return to the playoffs this year. Cutting ties with Bosh was necessary for them to move forward, and Riley is doing the right thing by giving him a hero's farewell.