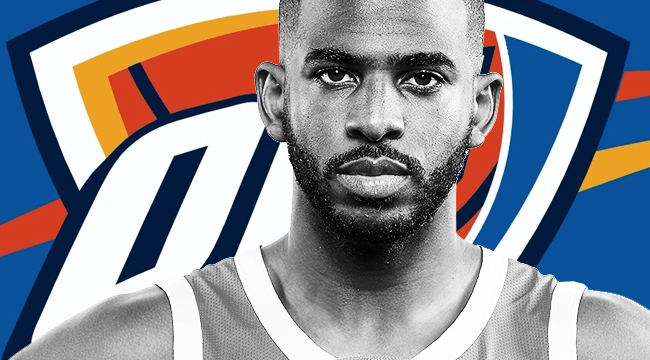 Chris Paul isn't exiting Oklahoma City any time soon, according to reporting from ESPN's Adrian Wojnarowski. Rather, the Thunder front office has canvassed the league and not found a trade they deem suitable, so they will hold on to the star point guard and look for a move at a later date. With so much of the league unable to be traded due to recently being signed to new contracts, it makes sense that Oklahoma City found it difficult to move on from Paul. Come Dec. 15, things will change significantly, as most of this summer's signings will be trade-eligible.
For now, though, Paul is a member of the Thunder and will likely begin the season as the team's starting point guard. So how will this new-look Oklahoma City outfit actually look on the floor?
Barring an unforeseen injury or trade-related holdout, Paul will walk right into the role that Russell Westbrook vacated as the starting point guard and primary offensive initiator. For much of the Thunder roster, this will be a relatively straightforward swap, as they should be used to playing with a ball-dominant point guard capable of being an offense unto himself. Paul will step into the Oklahoma City's spread pick-and-roll attack and feel right at home with the ball in his hands, particularly after playing in Houston for the last two seasons.

In his final season with the LA Clippers in 2016-17, Paul ran more than 18 pick-and-rolls per game; in the two years in Houston, that number dropped to 15.86 and 14.68 pick-and-rolls per game in 2017-18 and 2018-19, respectively. Expect that particular statistic to tick way back up in Oklahoma City. His pick-and-roll usage has dropped over the years as he's aged out of his prime athletic years and no longer has the burst to get to his spots, but in an offense designed around spread pick-and-roll and surrounding players who command defensive attention, Paul's usage and efficiency in pick-and-roll should increase.
Spread pick-and-roll with Steven Adams is going to be the Thunder's bread-and-butter play next season, as the Westbrook-Adams combination was the basis of nearly everything they've done offensively over the last several years. In Westbrook, Adams had an uber-athletic pick-and-roll partner, which led to Adams often trailing Westbrook as he rolled to the rim. As a result, Adams developed a very strong floater; he would often stop short of the restricted area, where Westbrook already was, and be available for a short dumpoff pass. From there, he was a skilled finisher, particularly for a paint-bound big man.
Adams will have to change his game slightly in this regard, as Paul is not the same explosive athlete Westbrook is. Rather than mash his way to the rim no matter the opponent, Paul is going to probe intelligently and patiently, waiting for the perfect hole in the defense to open up before slipping a pass to Adams or lofting his patented right elbow jumper up in the air. Adams will set the same bone-crushing screens he's set throughout his career, but the passing angles and timing will be different for him for the first time in his career and will be worth monitoring as the partnership with Paul grows.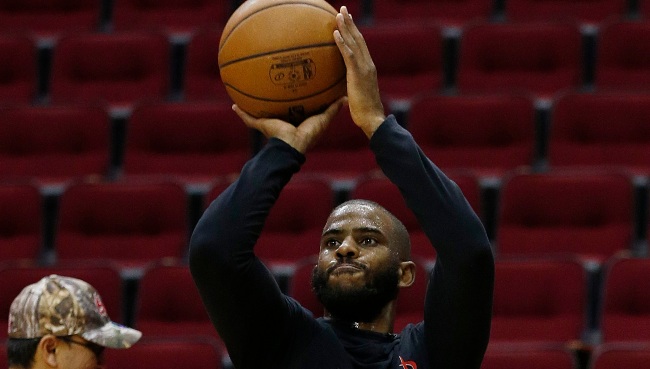 Statistically, Adams is likely to be the key beneficiary of the swap, as Paul is a better passer than Westbrook and Oklahoma City won't gear their defensive rebounding strategy around Westbrook's very strong transition offense. Adams will be charged with crashing the glass on both ends of the floor, which has the potential to end in him winning the rebounding title next season and averaging something like 15 points and 15 rebounds per game.
Former Clippers Shai Gilgeous-Alexander and Danilo Gallinari will join Paul in the starting lineup, though Paul's time in Los Angeles didn't overlap with these two. Gilgeous-Alexander will provide Paul the ball handling support Paul afforded to James Harden over the last two years, though obviously at a much lower level. Still, Gilgeous-Alexander is a strong point guard prospect in his own right and should be given the lion's share of the backup minutes in addition to his duties as a secondary playmaker next to Paul in the team's starting and closing lineups.
Gallinari, in addition to his ability to create his own shot, is a very, very capable floor spacer and will provide the Thunder a stretch-4 option they haven't had since Kevin Durant skipped town for Golden State.
The biggest hole remains where it's been since Durant's exit: small forward. Andre Roberson, assuming he's healthy, will step back into the starting lineup, but his offensive weaknesses are going to make things difficult on Paul. Roberson can thrive as a cutter, particularly in set plays like Oklahoma City's 54 Dive Lob, but by and large he's perhaps the most negative offensive player in the league. Defensively, the group of Paul, Gilgeous-Alexander, Roberson, Gallinari, and Adams is going to be formidable, but Oklahoma City may struggle offensively with Roberson in the game, even with the genius of Paul running the show.

Oklahoma City may experiment with all three of their point guards on the floor at the same time, but none of Paul, Gilgeous-Alexander, or Dennis Schröder have experience defending the small forward position. All three are either too short (Paul and Schröder) or don't have the strength to hold up (Gilgeous-Alexander), and the addition of Schröder to the lineup over Roberson doesn't exactly add a gigantic uptick in shooting production.
Schröder's place in the team was already somewhat tenuous after Oklahoma City acquired Gilgeous-Alexander as the point guard of the future. The Westbrook-Paul swap will likely open up more minutes for Schröder; Paul has played 61, 58, and 58 regular season games the last three years and is a near-sure bet to miss time at this point in his career, either through injury or rest. Schröder will have his chances to rebound from a particularly poor 2018-19 season and hopefully, for the Thunder's sake, rebuild his value. There is still $31 million over the next two years owed to him on one of the sneaky-worst short-term contracts in the league right now.
Finding that last shooter at the three is going to be the most important thing for the Thunder to solve this season, as it has been for the past few. Whether it's Terrance Ferguson popping and becoming the 3-and-D player he's flashed the ability to be in the past or Roberson's defensive acumen so strongly outweighing his offensive deficiencies that it becomes impossible to take him off the floor late in games, the Thunder will have to find that answer throughout the regular season.
Paul's arrival and Westbrook's departure don't create an overwhelmingly large difference for the Thunder, at least from a tactical perspective. They're still going to run a ton of spread pick-and-roll through their point guard and Adams will be heavily featured as the roll man in those actions. Defensively, Paul is an upgrade over Westbrook, as he's more attentive and focused on that end of the floor, even as Paul's athletic disadvantages grow with each passing year.
There will be an adjustment period for both Paul and his teammates as they get used to the new world order at the point guard position, but the upside of this Thunder group may well keep them in the playoff hunt throughout the 2019-20 season.