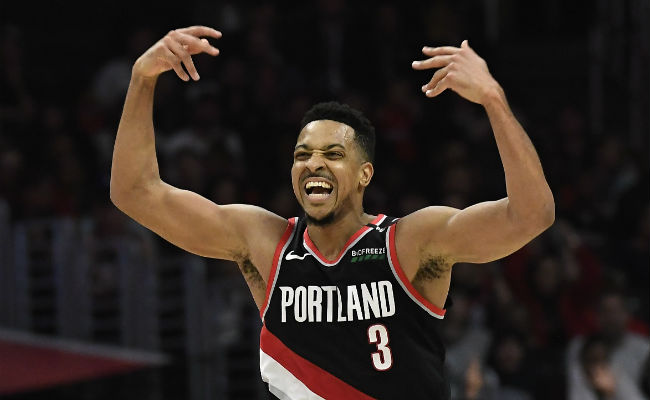 C.J. McCollum and the Portland Trail Blazers were hoping this could be the year. Now, the franchise hopes McCollum is just healthy for the postseason.
The dynamic guard for Portland left Saturday's game against the San Antonio Spurs with an undisclosed injury after a fall following a drive to the basket. With the Blazers trailing 76-74 to the Spurs with about seven minutes left in the third quarter, McCollum drove toward the hoop and landed awkwardly.
While laying on the ground in agony, play continued up court until a stoppage in play could focus on McCollum, grasping his knee, on the end line under the hoop.

McCollum was helped to the locker room, and reports came soon after that the star guard would undergo tests to examine the extent of what could be a serious injury for the Portland cornerstone.
There was some positive news, though, as Blazers coach Terry Stotts announced x-rays on the high-scoring guard were negative.
It's a nervy time for Trail Blazers fans for sure, as Portland sits in the forth seed in the Western Conference right now and hopes to be competitive in a stacked conference featuring the Houston Rockets, the reigning champion Golden State Warriors, and feisty Denver Nuggets. Losing McCollum for any time could hurt their position in the West, but a serious injury could significantly tank their hopes to finally break through in a conference