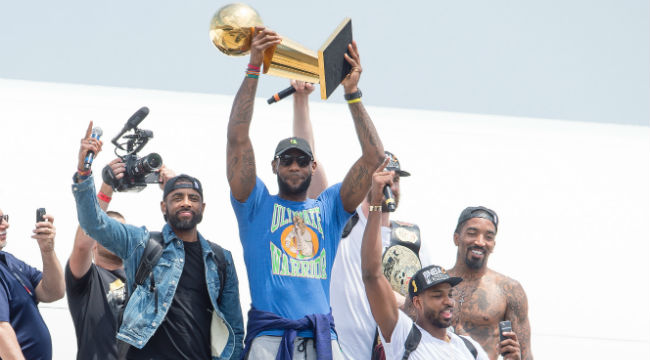 If you're a Cleveland resident looking to attend the Cavaliers' championship parade on Wednesday, but you aren't able to do so because of a pesky court date or the unfortunate nuisance that is school, here's a bit of good news for you.
First, if you are scheduled to appear in court, you don't have to go. Hooray, right? That's because the Cleveland Municipal Court judges issued a press release stating that no warrants will be issued for those who miss court in Cleveland on Wednesday. Also, housing court appearances scheduled for after 11 a.m. have been canceled. The American judicial system, ladies and gentlemen.
Per Cleveland.com:
"Given the historic nature of the Cleveland Cavaliers NBA Championship victory, it is only right and proper that the Cleveland Municipal Court facilitate an opportunity for our employees and those who use the Cleveland Municipal Court's facilities to join with the rest of Northeast Ohio and the Cavaliers' nation for the celebratory parade scheduled to take place tomorrow," Presiding Judge Ronald B. Adrine said in the news release.
And for school-aged Cavs fans, you don't have to worry about heading to class, because that's canceled as well. The Cleveland Metropolitan School District announced on Facebook that all summer classes are canceled, but they'll still be issuing summer meals for those in need. I guess when you have to wait 52 years to celebrate a major sports title, you might as well let everybody get in on the fun.