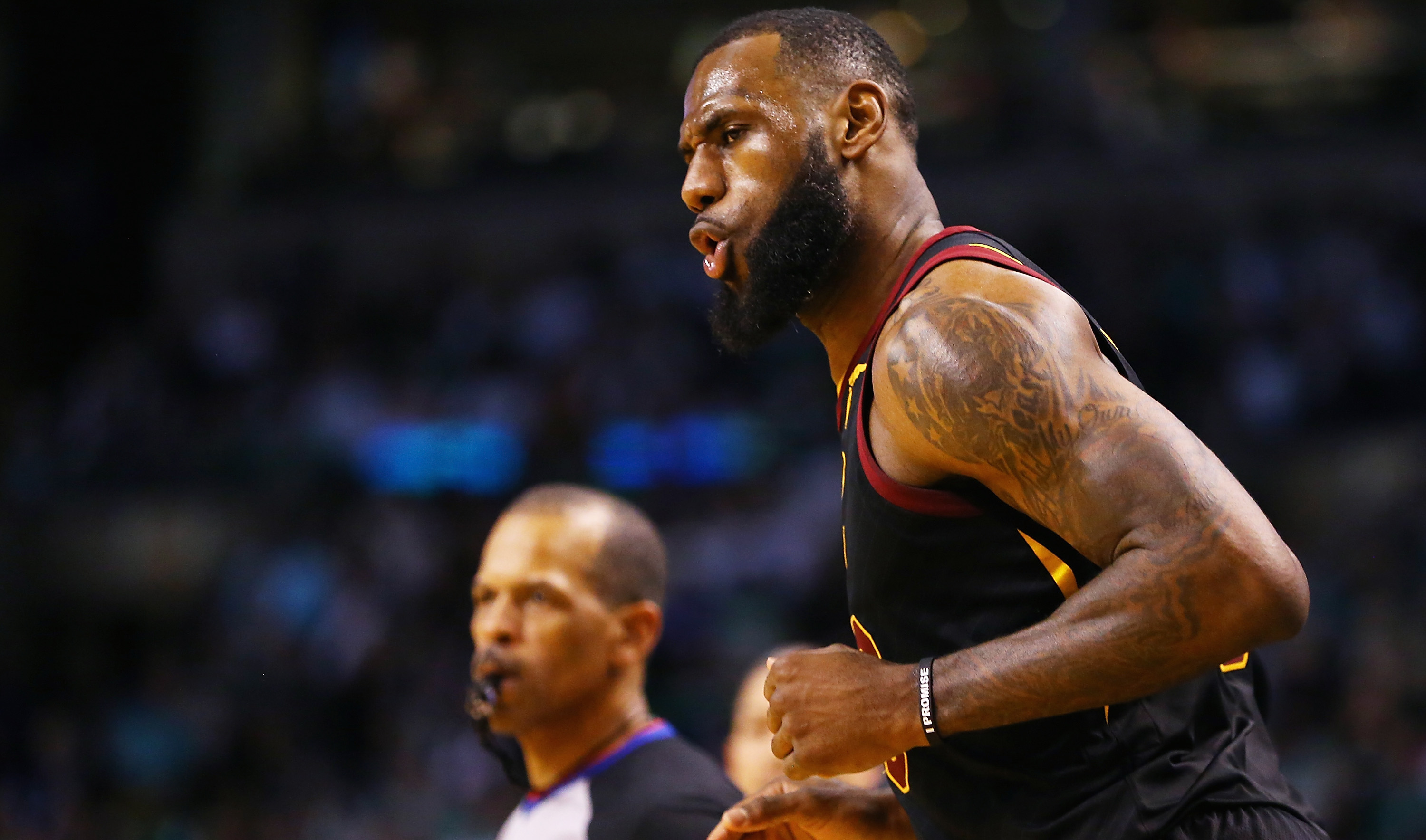 What a difference a few days makes. Prior to the trade deadline, the narrative was that the Cavs were broken, Dan Gilbert had wrested control of the team away from first-year GM Koby Altman, and it was only a matter of time before LeBron was headed out the door. Then Altman went for broke, sprayed the board, and did the only thing he could do to potentially get the Cavs back in the Finals conversation: he shipped out basically half the team.
Sunday saw the first action from each of the new members (as well as another starting opportunity for plucky upstart Cedi Osman, who is quickly becoming LeBron's newest high-energy mascot – a role vacated for a couple years after Anderson Varejao was traded). Jordan Clarkson (17 points on 7-of-11 shooting), Larry Nance (five points, four rebounds, three assists), George Hill (12 points, 2-of-4 from deep), and Rodney Hood (15 points, 6-of-11 shooting) all made a positive impact in their blowout win over the Celtics. Hill hit shots and made things difficult for his matchup on defense, Nance is a walking and living embodiment of the Energizer Bunny, Hood feels like a younger version of JR Smith (who suddenly looked like JR Smith again), and Clarkson was everywhere.
If LeBron's body language is any indication, he's thrilled.

One game doesn't solve everything, and the Cavs still have their share of issues. Effort, spacing, rotations, fit, and defense will still be critical, but there are more answers to questions than there were a few days ago. Credit Altman for one thing – he went out and found a way to get younger, more athletic, and more versatile. The Celtics are on shaky ground with Marcus Smart out, but they were still thought to be the Cavs' best challenge in the East (Toronto notwithstanding). Cleveland came out with a new-look team and made a statement, on Paul Pierce's big day no less.
Here are five takeaways from the team's impressive showing, with help from Dime senior writer (and podcast cohost) Robby Kalland.
1.) The Cavs aren't fixed on defense, but this is a start
The Cavs looked better on defense on Sunday than they have arguably all season. There's important context to add here in two places. First, it's not surprising that Cleveland looked fresh and was trying hard in their first game as a new-look squad. Second, this is a Celtics team that's 21st in the league in offensive rating at 104.3 and has been even worse over the last five games with a 101.2 (26th).
However, even with that said, this was an impressive showing on the first night of playing together. There were far fewer blown rotations, guys looked more engaged and their general team speed has obviously improved, which can help cover up some mistakes in a way they weren't able to previously.
It's going to be important to see how they perform on this end over the course of a much longer sample size, but this was an excellent start to a turnaround on that end for one of the league's worst defenses.
Most importantly, though, LeBron James looked refreshed. He didn't get a two week sabbatical in Miami this year, but he did get a breath of fresh air in the locker room. He got guys he feels like he can work with and lead, which is what he loves to do, and he might've flipped that proverbial switch for one night to show the Celtics and the league this new-look team will be a force in the postseason. Oh, and he got to spoil Paul Pierce's night, which he's always loved to do.
– Robby Kalland

2.) The Cavs are better when they can space the floor, and this unit does that
Cleveland's been a fine shooting team all year, hitting 36.6 percent of their three-point attempts, good for 11th in the league on the third most attempts in the NBA. However, they've added more firepower from deep that can potentially take them from good to great on offense, which is what they have to be considering there is a ceiling on how good this team can be defensively with the roster they have.
Rodney Hood and George Hill have both been very good shooters this year from deep, with Hood hitting 38.9 percent of three-point shots and Hill hitting a ridiculous 45.3 percent. In Cleveland, they'll see attempt opportunities likely go up and if they can shoot close to those percentages (especially Hill who was only averaging three attempts per game), that's huge for Cleveland.
However, the x-factor in all of their deals is going to be Jordan Clarkson, who was 3-for-4 on the afternoon from deep. Clarkson has never been an efficient shooter, because he's always been an extremely high volume guy. His reputation in L.A. was as a scorer, but one who often took ill-advised shots and whose usage was higher than it probably should have been. Now, he's in a position to play on a winning team and find himself off the ball more often than he was with the Lakers.
If he embraces that role as he appeared to on Sunday and can be happy with taking rhythm shots as they come to him — his 11 attempts was down from an average of 12.6 in the same amount of minutes he typically played — he could prove to be a sneakily great addition. We'll have to see if he is willing to do so more often moving forward and he did hit one somewhat absurd three in this one, but it was an encouraging sign moving forward.
Add all of that in with the recent revelation of Smith not being hot garbage anymore, and the Cavs suddenly have quite the roster of shooters that they'll eventually add Kevin Love back to for the stretch run.
– Robby Kalland
3.) Cavs fans are going to love George Hill if he's this engaged
I mentioned this in the defense portion, but George Hill caring again on the basketball court is very good and is a reminder of why he got paid the way he did last summer. On a good team, Hill can be a really good piece. On a bad team, it was clear that he didn't care about much and was, thus, horrid on defense.
On Sunday, Hill looked revitalized by being on a team with playoff aspirations again and his presence on the court was a welcome sight to Cavs fans. The point guard position in Cleveland has been a net-negative all season. Their best run of play came with Jose Calderon starting games which, with all due respect to Calderon, is not a great sign for a team hoping to compete for a Finals berth.
Hill is a significant upgrade of Isaiah Thomas, in the current iteration of IT in a post-hip injury world, on both ends of the court. I noted Hill's incredible three-point shooting this season above and when playing alongside LeBron, his threat as a spot-up shooter will be maximized. He's a steady ball-handler and can be a secondary playmaker alongside James, but defensively is where his impact will be largest.
The Cavs need someone that can contain opposing point guards and, until they added Hill, they did not have anyone on the roster capable of doing so. Hill built a reputation as a strong defender in Utah and Indiana but that did not transfer with him to Sacramento, where there wasn't much in the way of a team defensive system. In Cleveland, there hasn't been much of a functional defensive system either, so it was understandable to wonder just how good he'd be on that end without strong defenders around him like he had with the Pacers and Jazz.
The good news is, it appears Hill is able to be a strong defender without that kind of support around him, provided he has a reason to care. In Cleveland, he does and his energy at the point of attack might be what helps wake up some of the rest of the team into providing greater effort on that end as well.
– Robby Kalland

4.) It's officially CediSZN
We've long been on Team Cedi, but it was fun watching Jeff Van Gundy put himself fully on "the Cedi Osman train" during the broadcast. It's easy to see why. Osman gives the Cavs something they didn't have during the slide every time he's on the court: hope and a short memory. It's not easy to make a Finals run year in and year out, and for many of the Cavs members, the regular season had become a bit of a grind. A precursor to the Playoffs. It's easy to tune that out, go through the motions, and try and flip the switch.
For Osman, none of that is in his brain at all. He's simply excited to be on the floor at all, and even more amped to be playing with LeBron James. That's infectious. More reps have given him more confidence, and simply put, he's a great fit due to his length and athleticism to be playing at the wing with James. There's something pure and innocent about "The First Cedi," and his journey through his rookie season
CediSZN was worth the wait (even if it comes with a missed fastbreak dunk once in awhile).
– Martin Rickman
5.) The East is still (once again) Cleveland's to lose
Toronto has been playing incredibly well. Boston has shown it can lock down defensively. But with the new rotations, a locked-in LeBron James, and a reinvigorated team, the Cavs are still the favorite in the Playoffs until further notice. There's no question it'll take some time for the new guys to integrate themselves into the fray, but there was no way things could've gotten any worse than they were prior to the deadline.
Injuries might be a factor, but there's more balance, more potential on defense, more shooting, more youth, and more enthusiasm on this team than there was before.
"Attention to detail was at an all-time high for the first time this season," James told Doris Burke after the game.
And this is all without Love. Credit to the Celtics for staying engaged without Smart (and Hayward out since opening night), but they aren't without their issues either. And Boston's team stayed exactly the same after the Deadline had come and gone. The key will be working with what the Cavs had before, and what they have now. The new members of the team get the chance to play with James, and there's no expectation or pretense — they're just hyped they get to be on a title contender.
"We've got some hungry guys," James added to Burke, "and we've got our guys who have been there."
That combination might just have put the Cavs right back in a position to win the East for the fourth straight season.
– Martin Rickman