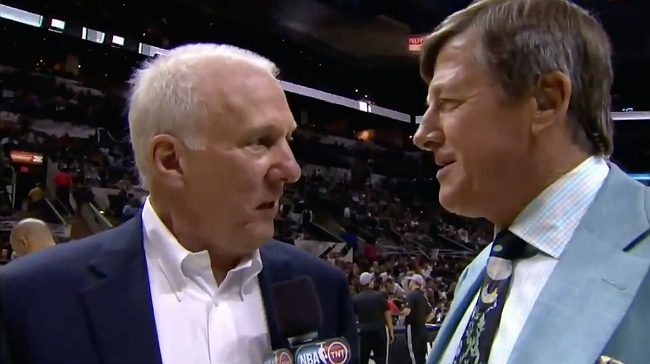 The NBA world is making a now-annual tradition out of honoring the legacy of Craig Sager. It's been nearly two years since Sager died of cancer, and ESPN and TNT's NBA broadcasts this week have honored the legendary broadcaster with kind words and fittingly colorful outfits.
Sager was a big topic before the Houston Rockets and San Antonio Spurs battled on Friday night, and ESPN ran a special clip package before the game showing some NBA legends interacting with Sager. Most of it was guys like Kevin Garnett and Dwyane Wade poking fun of Sager's colorful sense of style, but there was also a special interview with Spurs coach Gregg Popovich.
Popovich has a reputation for some memorable back and forths with Sager during their in-game interviews. And though it didn't always seem like Popovich was having fun, he recalled their interactions fondly.

The Spurs coach gushed about Sager and his work during the interview, expressing fondness for a man he spent a lot of time gruffly talking to over the years.
"He was an oversized personality, more than anything. He loved what he was doing. And he was great at it. And he knew it," Popovich said. "He walked the walk. He did his work, his questions were always to the point and to the meat of whatever he was trying to get at. And he did it with great flair, so what more can you ask?"
Popovich said his first impressions of Sager, however, were very different.
"Is he trying to get me fired? Or, why's this guy so negative? Or that seems kind of mean-spirited," Popovich said. "Those would be your first thoughts."
Once the head coach learned how much time and effort Sager put into the work, and how kind a person he is, their rapport came naturally.
"But then when you get to know him, you respect the fact that he knows what's going on and he does his work, he does his homework and he suffers no fools and just gets at whatever the crux of the matter might be," Popovich said. "And he does it with humor. He does it with a flair. And when you go back at him with the same, you end up having a pretty good time. I enjoyed him very much."
James Harden wasn't on air, but his pregame suit was a slick tribute to Sager as well.

Others in the NBA paid tribute to the broadcaster as well.

Russell Westbrook didn't disappoint with this double-breasted beauty, either.
Patty Mills and his fiancée, Alyssa, showed up in matching Sager tributes.

Paul Pierce had a strong look and an equally-strong old guy selfie on Friday night, too.
It was great to see NBA come out in full support of Sager and a worthy cause on Friday night.