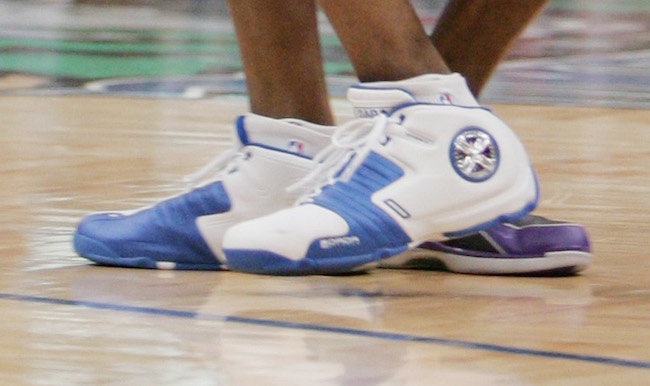 Thursday night, Latrell Sprewell dropped a bomb on us via Twitter when he revealed that his famed Dada Supreme Spinners sneakers were coming back in 2018. At first, he teased it as an idea, but then confirmed it as a real thing that is happening.
On Friday, Sprewell returned to Twitter to get us even more excited about the return of the legendary sneaker. This time the former Knicks and Timberwolves star brought images of the new sneaker (which is being brought back by way of Reebok) and the release date of January 1, 2018.
There's a 100 percent chance that I cop the green and white colorway, because they're just too good not to. Reebok hasn't confirmed the release news that Sprewell posted to Twitter, but hopefully they will soon because the world needs the Supreme Spinners back in our lives. For someone that was growing up in the early 2000s, they were iconic, even if you were only laughing at them in the latest Eastbay catalog.
Bringing them back is a total nostalgia play but one that will absolutely work. Reebok has pivoted almost exclusively to the retro market with their hoops line, rereleasing a number of Shaq sneakers, Iverson sneakers, and more. If nothing else, bringing back the Supreme Spinners will certainly capture the hearts of those of us that still listen to old Three 6 Mafia regularly.
Update: Sprewell's verified account has been suspended for unknown reasons. We have reached out to Reebok for comment.