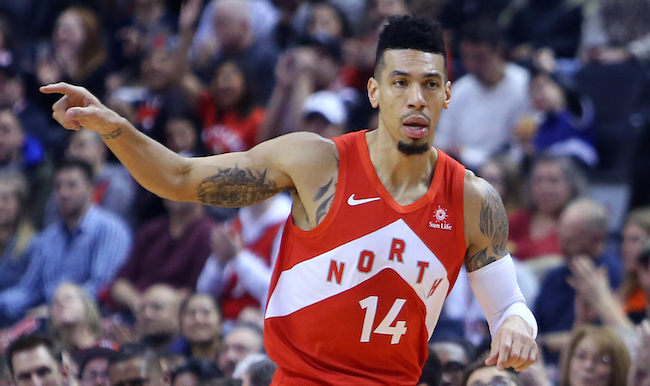 Since free agency started at 6 p.m. on Sunday, the whole basketball world has had their sights set on Kawhi Leonard, the reigning champ and Finals MVP who entered the offseason as the most coveted player on the market. And while most of the big decisions went public literally within moments of the moratorium period opening last weekend, we're still waiting on Kawhi nearly a week later.
But that's his prerogative. He's certainly earned the right to take his time in making what will not only go down as one of the biggest decisions of his life, but will also shape the NBA landscape for years to come. No pressure there, Kawhi.
Still, it isn't just his future that's hanging in the balance. Apparently, long-time teammate Danny Green is anxiously waiting word as well, and that's because he's waiting to see whether he might want defend the title in Toronto or explore options elsewhere, including one of Kawhi's possible destinations in Los Angeles.
Via Michael Grange of SportsNet:
For Green there are real-life implications. By choosing to wait and see if he can run it back with Leonard in Toronto, defending the franchise's first championship, he's risked limiting the market for his own services as a frenzied start to free agency has cooled with much of the available talent signed and teams with money to spend dwindled.

His list is basically down to the Raptors, the Lakers or the Dallas Mavericks.

The Raptors and Lakers are tied to Leonard's decision, but the Mavericks want Green as a veteran leader on an emerging young team and won't wait forever, according to Green. The possibility exists that he could end up the odd-man out in a high stakes game of musical chairs.
First, it's admirable that Green is running this risk for the chance to stay alongside Kawhi in Toronto and go for more championships. But the NBA is also an unforgiving business that moves swiftly this time of year. And Green knows that he's at risk of losing out if teams get tired of waiting.
"Yes. I'm worried also," Green said when asked if he was concerned about losing out by waiting. All those things come across the board — if I miss out on opportunities, if I get the short end of the stick, which would suck.

"I'm hoping he makes his decision soon … so that these other teams don't have to wait, I don't have to wait, I can make a decision.

"We'll see how long these teams will wait, I don't think more than another day or so."
Regardless, Green will be an asset to almost any team he joins this summer, if he can recapture some of the versatility and hot shooting that made him one of the better two-way values in the league in recent years.