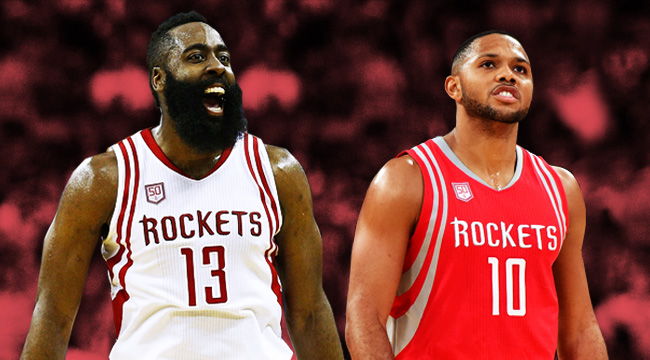 The Houston Rockets were an absolute enigma last season. Going through two head coaches, constant rotational changes, and a myriad of skepticism, they ended the year in one of the most distraught and puzzling situations in the league. It was extremely impressive they even made the playoffs last year, but they'd have to answer a number of different questions regarding the direction of the team.
With concerns about his leadership qualities, a lot of the negative criticism was on James Harden and whether he could be the team's primary star. But, that question could only be answered if they put the right pieces and coach around him. It wouldn't be that simple as notable Rockets players like Terrence Jones, Dwight Howard, and Donatas Motiejunas were surely gone.
They had to go out and recruit players that fit what the new regime would want, along with making sure it fit into Harden's game.
Rockets General Manager Daryl Morey, who was considered to be on the hot seat after last season's debacle, had to make swift and drastic change in order to keep Houston afloat in the top-heavy Western Conference. Only one-year removed from the Western Conference Finals berth, Morey knew he needed to get someone that Harden was familiar with. That's when he reached out to Mike D'Antoni.
"The fit was excellent," Morey told me over the offseason. "They had a strong relationship with USA Basketball, and their philosophies meshed very well."
Once the decision to hire D'Antoni was executed, that's when a game plan was made. D'Antoni, an innovative basketball mind who'd been in poor situations previous to the Rockets, had an idea to change the way this team played. It all started with Harden playing point-guard as he'd noticed his vastly underrated playmaking ability. While he was already known as the primary ball handler at most times, the label of point guard and switching Harden to that position gave him more confidence and allowed them to map-out a true plan of attack.
They finally had a direction. And now Morey and company could decide which players to go after.
They'd probe the market for players that could move the needle, fit with D'Antoni's philosophy, and create space for Harden to work. Eventually, they'd find the two players they were looking for in Ryan Anderson and Eric Gordon, both of whom were overlooked due to injuries and inconsistent play.
Anderson and Gordon were signed long-term team deals that were seen as sizable to the public eye. Many were skeptical and thought the team had kissed their chances of a top-four seed in the West goodbye.
Even after the moves, going into the season, the over/under win total for the Rockets was a marginal 41.5 wins. Even so, Morey, Harden, and D'Antoni remained confident with their infrastructure and continuity.
"The goal is to get home court advantage in the first round," Morey said, "advancing deep in the playoffs from there."
He predicted something that many had balked and laughed at. But now, sitting at 41 wins just after the All-Star break, they've got a good chance to break the 50-win mark and look locked into a top-four seed. The Harden-D'Antoni relationship – which dates back to their time with Team USA – has looked virtually flawless considering the new additions. And thus far, the Anderson and Gordon signings couldn't have worked out any better.
As the trade deadline came and went on Thursday, it's signaled a time where you can analyze what your team has done. For Houston, many wouldn't of considered them buyers in the market, but they've bought already.
The Rockets recently traded Corey Brewer and a first-round pick to the L.A. Lakers for veteran swingman Lou Williams. The trade signaled what many would've never expected before the season: a commitment to push even higher and take a shot at the Warriors.
Williams brings more shooting to a team that's already ranked number one in three-point attempts made and attempted. In his first game with Houston on Thursday night, he knocked down nine of 16 shots (including seven of his 11 three-point attempts).
As they've already got this year's Three-Point Contest winner in Eric Gordon, who's arguably the Sixth Man Of The Year, this transaction adds yet another bench scorer to help Houston cement their seeding and make a run in the playoffs. In the one-game sample size, it seemed to work as well as it possibly could as the Rockets won by 30 points.
As for the Rockets, it doesn't sound like they're done making moves, and the simple fact that they've overachieved from an outsider's point-of-view doesn't mean they're satisfied. Morey, a general manager who's been known to make some gutsy calls, has done a remarkably good job at turning the Rockets into a contender almost instantly (six months is pretty quick in the NBA). If they continue their success through from the past 68 games, they may indeed end up with a sweep of awards from Coach of the Year to Executive of the Year and Most Valuable Player to the Sixth Man of the Year.
From the hiring of D'Antoni to the trade for Harden, Morey overhauled a team that looked like they were on the brink of failure and brought them back to life. Not only has he brought them back, but he's got them on the right track for now and the future.
After locking up Harden this offseason and relying on drafted prospects like Sam Dekker, Montrezl Harrell, Clint Capela, and others, he's got the Rockets' future looking as bright, if not brighter, than the present. A future date with Golden State might be on the horizon.